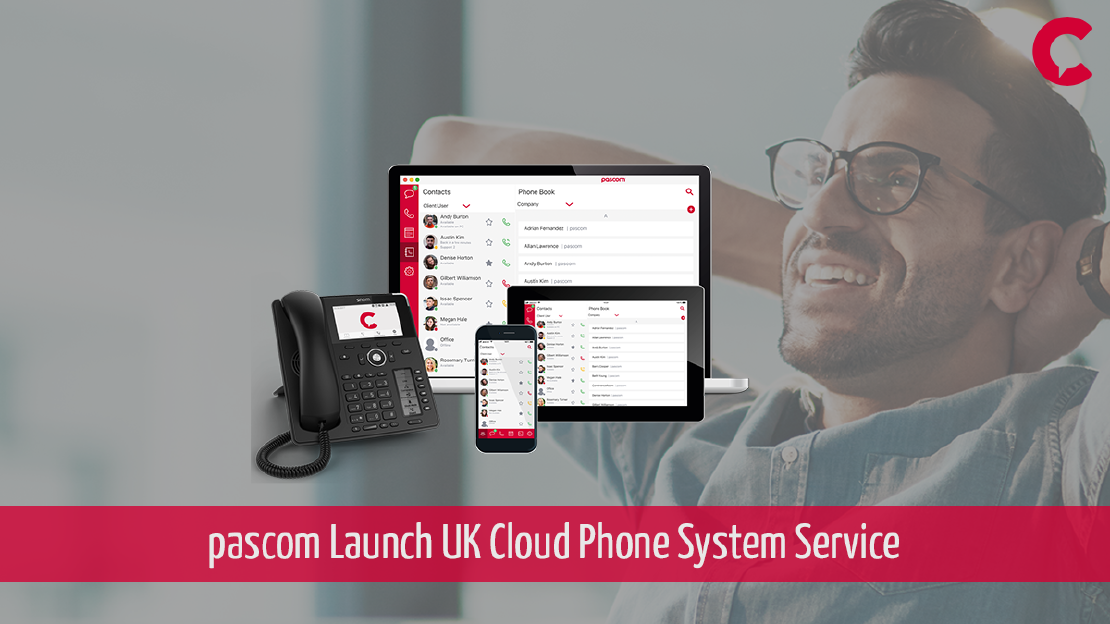 pascom Launches UK UCaaS Cloud Phone System Service
[London, United Kingdom | Deggendorf, Germany - 5th May 2017] pascom GmbH, a leading European cloud and on-premise Unified Communications (UC) business phone system vendor, today announces the launch of a new UK hosted business phone system service offering.
Today's announcement coincides with the company's UC Expo 2017 announcement and outlines their strategy to strengthen pascom's position within the UK UCC market place. The newly launched cloud phone system forms a crucial element of this strategy and will be unveiled at UC Expo 2017. Hosted in the UK, the new service offering reaffirms pascom's commitment to deliver innovative telephony and collaboration solutions and serves to ensure that customers receive the highest service quality levels. As such, pascom's cloud PBX will provide UK based customers with a full featured, cost-effective cloud telephony platform from which to upgrade their business communications.
pascom's UK hosted PBX differs from competitor cloud telephony offerings in that pascom cloud phone systems combine a full Desktop Unified Communications and Collaboration (UCC), Mobile UCC and an extensive range of Contact Center tools to boost productivity and drive customer service standards. Furthermore, unlike other cloud phone system vendors, pascom's cloud business communications platform provides customers with the freedom of choice when selecting the voice provider(s) that best fulfil their business needs. Moreover, when compared to competitor cloud solutions, pascom cloud solutions offer the customer the choice to either self-manage the solution in-house or alternatively benefit, at no extra cost, from 100% managed services provided directly by pascom. This freedom of choice is almost unique in the market and offers both customers and resellers considerable added value in terms of flexibility and ease of management.
James Barton, pascom Channel Sales & Marketing on the new cloud offering:
Launching a cloud PBX offering hosted in the UK is a crucial element of our UK expansion. By hosting the solution within the UK, we are demonstrating our commitment to delivering greater benefits combined with exceptional quality and functionality at excellent value. Further to this, our UK cloud telephony offer is included in our channel partnership programme. This will allow pascom resellers to deliver top of the range UCaaS services in combination with on-premise solutions, thus enabling our partners to offer value added services across all verticals and market segments.
About pascom
Founded in 1997, pascom are the developers of next-generation UC Telephony Solutions and we upgrade business communications.
With pascom's innovative on-premise and cloud UC phone systems at the heart of your Communications, you will have a centralised, intelligent hub with which you can gain total control over your organisation's communications – no matter how diverse and dynamic your business communication channels.
Our solutions offer excellent scalability and are highly customisable to exactly match even the most specific customer requirements. Which is why our IP PBX solutions the perfect choice to support Small Medium Enterprises communicate smarter, more efficiently and more cost effectively.
For more information about pascom Business Communications solutions, visit www.pascom.net or get started free now.