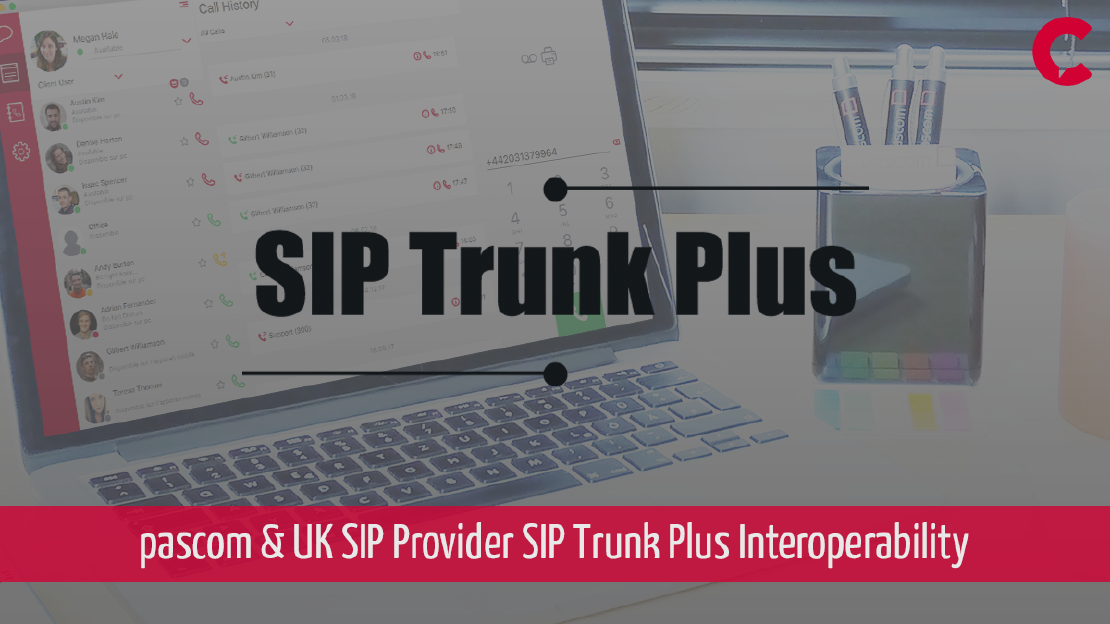 pascom SIP Trunk Plus VoIP Provider Interoperability
pascom and UK Based VoIP Provider SIP Trunk Plus Announce Interoperability.
[Deggendorf, Germany & St Albans, UK | August 6, 2015] pascom GmbH & Co. KG, developer of the innovative software pascom phone system are pleased to announce the successful completion of interoperability testing with the UK based SIP Solutions Provider Acuity UC / SIP Trunk Plus.
Thanks to the successful completion of interoperability and compatibility testing, pascom phone system users in the UK will be able to start benefitting from SIP Trunk Plus' innovative, cost effective SIP trunking solutions within just a few mouse clicks. This is as a result of a newly developed pascom VoIP provider template, which ensures that pascom and SIP Trunk Plus customers can be sure that all the respective pascom and SIP Trunk Plus features will be fully available and compatible, thus delivering significant cost savings as well as efficiency and productivity boosts.
The new partnership will benefit not only existing customers, but also businesses that require innovative, flexible, scalable and fraud resistant solutions in order to fulfil their unified communications needs. The ongoing cooperation between pascom and SIP Trunk Plus will also serve to ensure that compatibility will be guaranteed not only in current versions but also for future versions of the pascom phone system software.
Jonathan Rodwell, SIP Trunk Plus CEO, shared his thoughts on the new interoperability:
"We are delighted to announce the successful completion of interoperability testing with pascom's business phone system. SIP Trunk Plus will offer pascom users an outstanding SIP service both in terms of call quality and the range of value-add services available over the platform to complement their pascom deployment, and offer protection through our leading Fraud Mitigation software."
Mathias Pasquay, pascom CEO, mentioned upon announcing the successful completion of the compatibility testing;
"The successful completion of interoperability testing with SIP Trunk Plus is great news for our pascom customers as it provides our customers with an excellent solutions provider in the UK that is renowned for their high quality. Moreover, thanks to their forward thinking, innovative approach to SIP telecommunications, pascom customers will also benefit from ease of integration without compromising any of our innovative pascom tools and features as well as providing significant protection against VoIP fraud."
About SIP Trunk Plus.
SIP Trunk Plus are the innovative SIP trunking solutions as developed and delivered by SIP application and delivery specialists 500 Ltd (Acquired by Acuity UC). Their mission is to take "SIP trunks" to the next level by delivering a range of SIP-based services that are not only truly unique, but offer hugely competitive advantages to partners and outstanding complementary services designed with the end users in mind.
With their SIP services, SIP Trunk Plus provide their partners with the ability to deliver highly competitive offerings out of a technology that the traditional industry treats merely as a means to deliver VoIP.
For more information about SIP Trunk Plus, please visit their website
About pascom
Founded in 1997, pascom are the developers of next-generation UC Telephony Solutions and we upgrade business communications.
With pascom's innovative on-premise and cloud UC phone systems at the heart of your Communications, you will have a centralised, intelligent hub with which you can gain total control over your organisation's communications – no matter how diverse and dynamic your business communication channels.
Our solutions offer excellent scalability and are highly customisable to exactly match even the most specific customer requirements. Which is why our IP PBX solutions the perfect choice to support Small Medium Enterprises communicate smarter, more efficiently and more cost-effectively.
For more information about pascom Business Communications solutions, visit www.pascom.net or get started for free now.