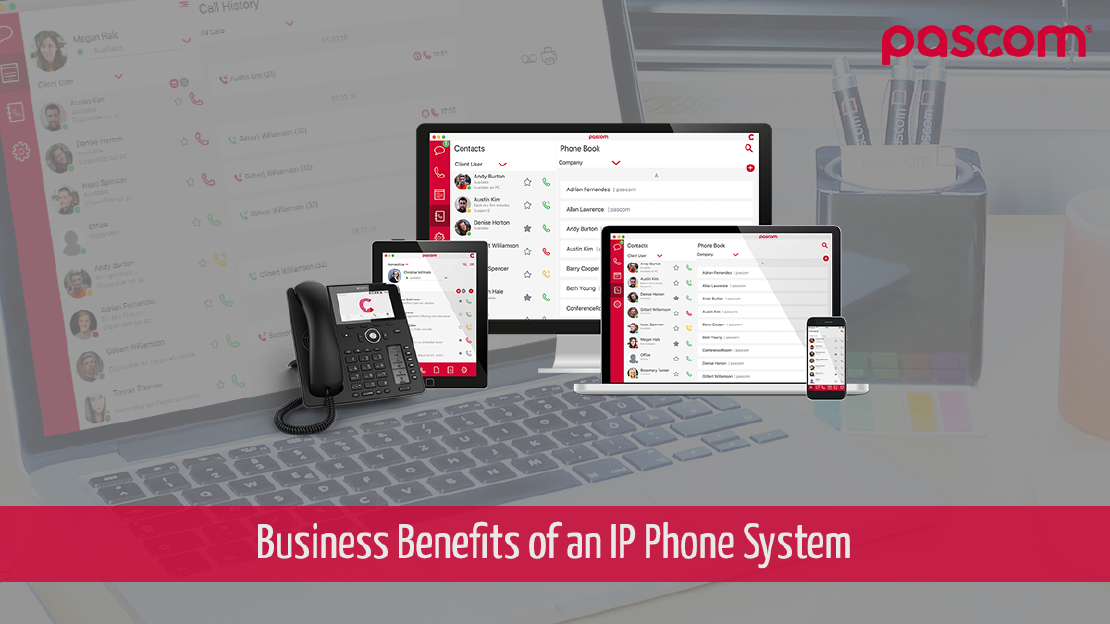 IP PBX Business Benefits
09.09.2015
9 min read

pascom
How can an IP PBX Benefit your Business?
An IP PBX or IP phone system provides businesses with a complete telephony solution which differs from legacy systems in that phone calls are routed over the company's IP network, thus eliminating the need for separate infrastructures - 1 dedicated to voice and the other to data. May not sound like much on the surface, but the possibilities in terms of feature benefits and cost savings are significant.
However, before we go any further it is first important to understand how an VoIP phone system actually works and how it fits into your network.
How an IP PBX Works
IP phone systems are constructed in such a way that they consist of the central IP PBX server and one or more SIP clients (users, softphones & desktop phones), which then register with the IP PBX server which means the server will have access to a directory of all system users, their phones and SIP addresses. In order to communicate with one another, all the components of the system use your existing LAN network, hence the need for only one network infrastructure, which incidentally has the additional benefit getting rid of all that annoying telephone wiring.
In order to make a call internally, the SIP client will send a signalling request to the server which will then route the call accordingly. The same is true when making external calls to the outside world except that a VoIP service provider will be required. Another option here would be to connect your existing PSTN lines via a VoIP Gateway, which also has a few additional benefits such as being able to connect to the mobile and analog worlds.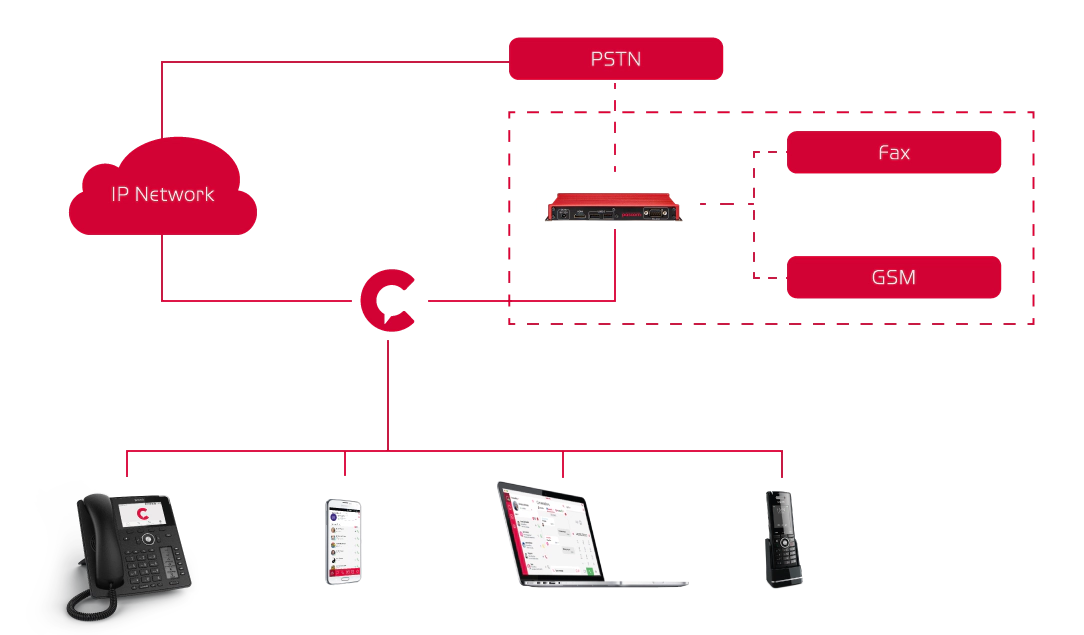 Easier to Install, Configure & Manage
In comparison to proprietary systems, IP phone systems are much easier to install and configure, often needing someone who is computer savvy to manage the systems opposed to requiring specifically trained technicians. What's more, because IP PBX software phone systems are simpler to install and configure, the time required is often kept to a minimum. This is also further facilitated by such systems utilising web based user interfaces (web UI) which provide system admins with a platform from which they can configure, maintain and update the system without requiring additional costly and time consuming vendor support.
Just these aspects of software based IP phone systems alone can ensure that businesses are able to save significant amounts of time and therefore money as well as enabling them to better utilise their IT resources.
No Vendor Lock In
Unlike proprietary systems which require you to use proprietary phones / additional modules if you wish to benefit from more advanced features, an IP PBX is based on OpenStandards. This stems from the fact that modern VoIP phone systems are based on the Session Initiated Protocols (SIP) communication protocol, which in turn provides you with the freedom to choose from almost any available IP phone or VoIP Gateway vendor. Having such flexibility is great for businesses as it means that purchasing new hardware can be done according to the business' goals and within the project budget.
Benefit from System Scalability
A significant downside of legacy systems is that they are not so easy to grow as your business thrives and expands. In fact, due to the complexity of such systems, adding new extensions alone often involves new cabling and additional hardware. If you need new functionality, well then it might well be that the only solution is to purchase and deploy a completely new phone system.
With an IP PBX solution, this is not the case at all. For example, adding new users is often a simple matter of adding a new licence to your package and speaking with your VoIP provider to get additional lines. Moreover, as IP PBXs are software based, incorporating new company locations is a matter of configuring your network to do so, removing any additional server hardware requirements and ensuring that the additional benefits outlined below can be applied to all locations linked to the central system.
Advanced Feature Set as Standard for Less
Software is coded not built which means IP PBX vendors have the ability to further develop their offerings to include new feature and improved functionality. As a general rule, IP phone system software solutions already come with a healthy feature set included as standard, such as a range of Unified Communications features like video, inbuilt softphones, mobile apps, call conferencing, chat, presence, unified messaging as well as traditional PBX features like Ring Groups and Call Queueing which can often be very expensive add ons with a proprietary system.
Access to Complete System Overview
With software based IP phone systems, both your admins and users will benefit from a more complete system overview. Your users will benefit from being able to identify which of their colleagues are currently busy or free and deciding how to best get in contact with them. IP PBXs also help improve team work, in part due to presence information, but also to a large degree, because admins can define whether team leaders / managers have access to real time call volume info and help them increase team performance by enabling them to react to changes in demand.
Meanwhile, in terms of running the system, your administrators will benefit from having access to graphical system health information as well as automated fault reporting, meaning potential problems can be identified and resolved quickly and efficiently and sometimes even before they arise, thus ensuring maximum uptime.
Increased Productivity
The fact that IP telephony systems are built around IP technology makes such systems extremely flexible when it comes to integrating other business applications. This makes it possible to connect your CRM system (or whatever customer management tool you use, ERP, ticket system etc) with you phone system and automatically open customer information when they call you. This also works in reverse as it is often possible to make phone calls directly from within your customer management application, therefore allowing users to quickly and efficiently access customer records saving valuable time and significantly improving productivity as your agents will no longer be wasting valuable time searching for the relevant information but rather have it at their finger tips when they actually need it.
Improved Customer Service
Tying into the fact that IP phone systems generally come with an abundance of advanced features per default and can support businesses increase productivity, it almost goes without saying that these features will help improve customer service within an organisation. As alluded to in the point above, users having access to the right info at the right time will also boost customer service and satisfaction. But the features don't stop there. An IP PBX software will also come with functions such as AutoAttendants, IVRs, and affinity call routing, which are all designed to ensure that your incoming callers are directed to the most appropriate contact at the first time of asking. What's more, once on the call, your team members can benefit from call listening and whispering, allowing supervisors to listen in and provide tips on how best to support the customer which can greatly improve customer service and be used for invaluable training. Moreover, call recording functionality provides businesses with the opportunity to maintain and improve customer service through improved training and quality assurance.
Lower Call Costs
Through leveraging the benefits of VoIP providers (aka SIP trunking), IP phone systems can deliver significant cost savings in terms of call costs. Top of the list of savings is that cross site internal calls are normally free, providing the two sites are networked together in some way. On top of this, as external calls are routed via the internet, they are also significantly more cost effective compared to charges incurred by traditional carriers. Furthermore, technologies such as least cost routing further support businesses reduce their telephony costs as the server identifies which communication medium an outbound caller is trying to reach, i.e. landline, mobile, international etc and routes the call to the trunk which will have the least cost incurred as a result of making the call.
Lower Total Cost of Ownership
While it is true an on-premise IP PBX solution may well involve higher initial upfront costs, long term operational costs are significantly lower compared to hosted solutions as a result of monthly user subscription costs making the total cost of ownership significantly lower. Compared to hosted solutions, this can be a massive bonus of operating a business owned system, especially if your business has a larger user base. On the other side of the coin, hosted or subscription based IP phone system solutions do allow businesses to spread the costs, making these options ideal for startups, SOHO and businesses that fit into the smaller end of the SMB spectrum.
In the end, this will likely be determined by cash flow, but if you can afford to purchase your system out right, then your monthly operating costs will be significantly lower compared to hosted / subscription based solutions.
Summary
It is plain to see that investing in a software based IP PBX solution makes a great deal of sense in that businesses who do so will be to able to enjoy significant cost saving and business performance enhancing benefits. This applies not only to companies who are looking move to a VoIP system, but also to companies who already have a PBX system in place but also want to benefit from the savings in terms of administrative hassle, maintenance and call costs that having an IP PBX provides.
For more on how your business can benefit from using the pascom IP phone system, take a look at our website or get in touch. Moreover, if you would like more details on how your business can benefit from Unified Communications with pascom, then our free white white paper download is for you.
Final Word
The crucial aspect of choosing a cloud or on-premise business phone system vendor isn't who's the cheapest, but who gives you the most confidence that not only will you get off to a flying start, but also that the vendor will be a reliable and supportive business partner in the future.
Give the pascom team a call on +49 991 29691 201 to discuss your requirements and get started within minutes using our free cloud business VoIP phone system edition.