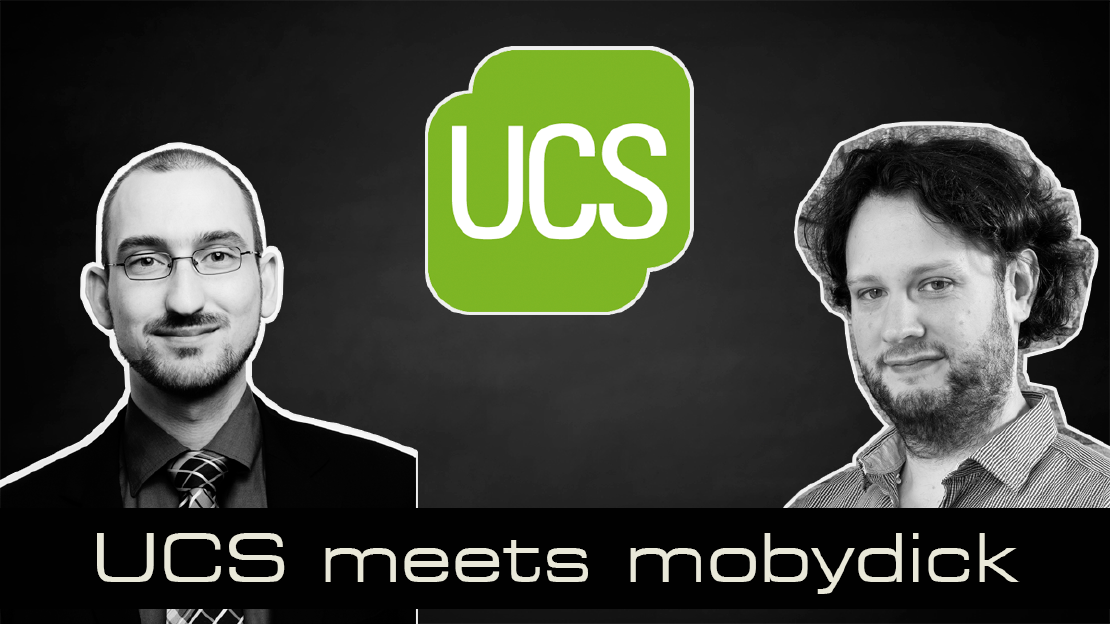 pascom UCS Identity Management
01.07.2015
3 min read

pascom
Managing Identities with the UCS and pascom Integration
Following from last Friday's mobydick 7.10 release in which we announced the successful completion of interoperability testing between the Univention Corporate Server (UCS) and pascom's software based VoIP phone system, and our previous post of What is Identity Management, we figured that we should let you guys know how it works with UCS and pascom phone systems (previously mobydick).
That of course means that the VoIP Guys are back with an Identity Management (IdM) special - mobydick meets UCS, featuring Nico Gulden, Univention Product Manager, and of course the ever present Mathias Pasquay, VoIP Guy and pascom CEO.
What is the Univention Corporate Server?
First up, Nico Gulden introduces the concept of Identity Management, what is it, why is it important as well as naming some example use case scenarios before moving on to the introducing Univention's Corporate Server (UCS).
As Nico Gulden mentioned, UCS is much more than just an Identity Management system. Although, it is clear the integrated identity and infrastructure management tools form a significant component of the UCS solution. In a nutshell, UCS provides businesses with an innovative platform that delivers organisation full control over their IT systems.
In essence, UCS enables IT managers to not only efficiently operate and manage server applications but also their complete IT infrastructures, regardless of the operating system environment (Microsoft Windows, Mac OS X or Linux systems, virtualised, distributed and so on).
Why not check out the UCS core edition and try it out yourself now and without any obligations.
What are the Benefits of the pascom and UCS Integration?
Alongside our VoIP Guys come mobydick school video tutorial above, we also have a complete documentation on the pascom UCS integration which can be found in our documentation, so I will not go too deep into the integration configurations. Instead, I will concentrate on the benefits that integrating the two solutions deliver businesses.
First and foremost, by integrating pascom and UCS, IT admins are provided with a centralised platform from which they can add, manage, edit and remove all their system users, their associated permissions (roles) and devices. This greatly benefits admins in terms of removing time consuming, repetitive tasks, saving them considerable amounts of time and simplifying complex infrastructures for improved ease of management. But the main benefit of a centralised system is that such systems greatly enhance security by enabling system wide policies, such as password controls, to be implemented.

Therefore, it is easy to see that with an automated import and sync of user data between UCS and pascom coupled with UCS' integrated IdM functions will allow IT admins to greatly improve system security, increase both their and their user productivity, reduce / eliminate duplicated or invalid data entries and save costs.
Summary
While integrating your pascom phone system with UCS can greatly enhance productivity, reduce costs and eliminate duplicated data, which are all good reasons, the top benefits you can expect to receive from implementing these solutions in conjunction with one another is that with UCS and pascom, you will have an enterprise IT Infrastructure and management solution that can be effortlessly integrated into your corporate telecommunications system, with the minimum of fuss and effort.
Should you want extra information regarding our software based pascom VoIP solution or the integration with Univention's Corporate Server, then get in touch via our website or give us a call on +49 991 29691 200.