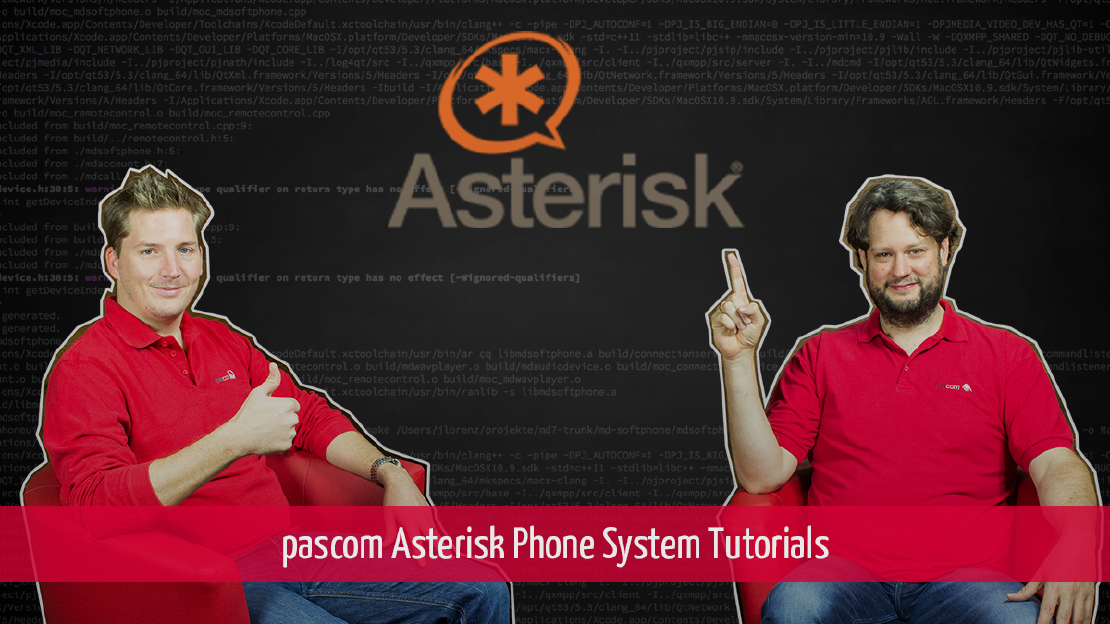 Asterisk Tutorial 06 - Asterisk Dial Plans
30.11.2014
2 min read

pascom
Introducing Asterisk Phone Systems: Asterisk Dial Plans
In this the 6th Instalment of our Introducing Asterisk series, we take a look at Asterisk Dial Plans, what they are and what they do as well as explaining the concept of "Contexts" within Asterisk and how to define and configure them using the Asterisk Command Line Interface (CLI). We also introduce the concept of Asterisk Applications, taking a look at the app NoOp that creates Asterisk CLI output data when you try making calls.
As Mathias suggested, we would always recommend copying any file you are about to edit, just in case you need the original configurations at a later date. To do this, simply use the command:
cp extensions.conf extensions.orig

(i.e. copy (cp) + original file name + new file name).

Another quick tip from today's episode is how to reload the Dial plan, without having to restart your entire Asterisk service. This also has the added benefit, that during the reload process, any errors found in the dial plan will be displayed now. Also, please note that in order to see the output generated by the NoOp application, you will need to adjust your verbosity levels using:
-rvvv.

Stay tuned for next time when we will take a more detailed look at Asterisk Dial Plans and actually succeed in making some calls. If you like this series, why not subscribe to our blog using the subscribe box on the right of this page and stay up to date with not only our Introducing Asterisk Series, but also all the latest from the VoIP Guys and pascom.
Final Word
A well-configured business phone system that oozes useful tools, delivers excellent audio quality and intuitive call flows will leave callers with a highly professional impression. The configuration options and application availability and how well they are utilized will have a decisive impact on how professionally you manage your calls and therefore how your customers view your company. The switch to a pascom VoIP phone system solution provides the opportunity to not only upgrade your internal collaboration but also to redefine your business telephony.
If you would like more information regarding pascom and our Asterisk based Software PBX, please visit our website or give the pascom team a call on +49 991 29691 200 to discuss your requirements and get started within minutes using our free hosted business VoIP phone system edition.