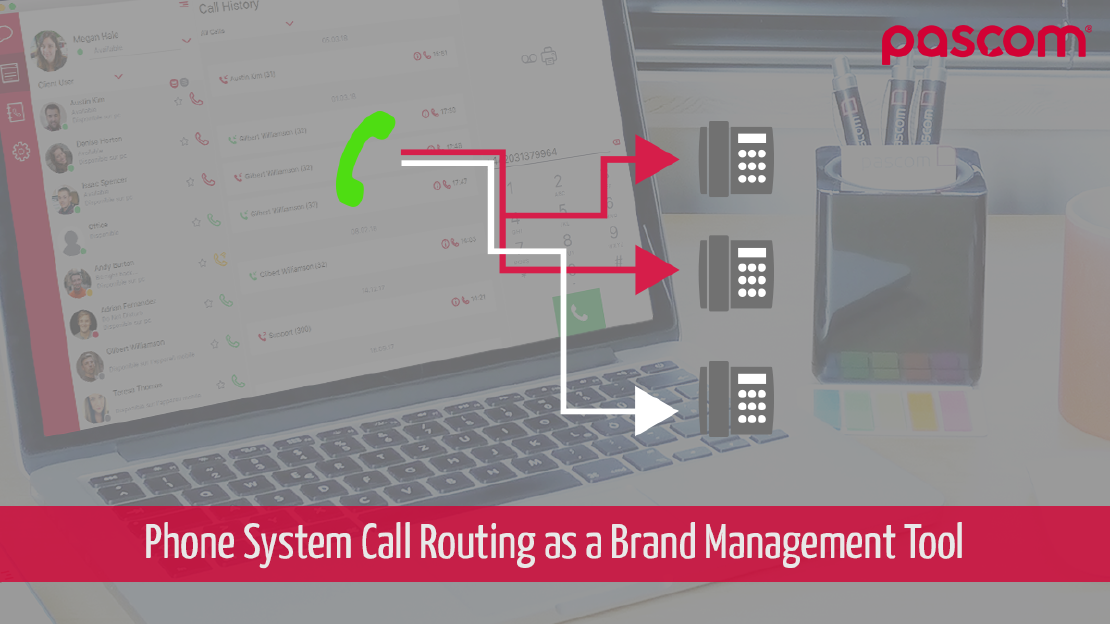 Phone System Call Routing as a Brand Management Tool
08.01.2016
7 min read

pascom
Effective Call Routing - How To Use Your Phone System In Brand Management II
It's 2016 and we are back! Which means it is now time for part two of our Brand Management series. In part 1 of the series we took a look at a recent research survey from telecoms review website Software Advice and analysed the findings to provide small medium businesses with some tips on how to manage and improve their brand image using phone system features such as Auto Attendants, IVRs and CRM integrations. That means that it is now time to take a look at how effective call routing can add value to a SMBs brand image, but first we need to understand exactly what call routing actually is and what it does.
What is Call Routing?
A call routing system (also known as an Automatic Call Distributor or ACD for short) can be defined as a tool that directs calls to individual call agents, hunt groups, teams or queues using a set of criteria which could be time based or by using the information gathered by your Auto Attendant / IVR systems. There are many routing strategies which can be used depending on the needs of your business such as sequentially, all at once (also called parallel), skill based and so on. As such, top of the range phone systems will be able to deliver numerous options which can provide businesses with a highly flexible call routing engine to really give how callers view your business a positive boost.
Why Effective Call Routing is Important
Call Routing by its strictest definition only affects inbound callers which basically means that your business has already done something right as the customer is caller you. Now don't go and ruin it by undoing the hard work of your sales & marketing teams by allowing your phone system to generate a negative impression as this will only make making your business successful many times more challenging.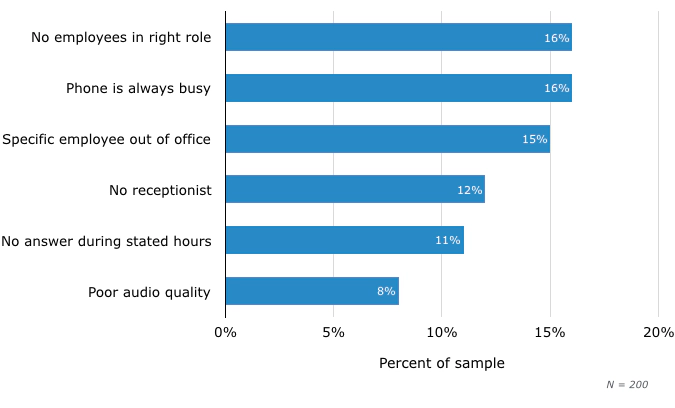 So take note - according to the survey, the top pain points in terms of inbound calls are all slightly related to one another in that they deal with the callers ability to reach the right employees. For example, respondents cited not being able to reach "an employee in the right role" as the joint top sore point along with the "phone always being busy".
Armed with this knowledge, businesses can take steps to ensure that the issues highlighted below are kept to an absolute minimum and therefore in turn ensure that their phone system contributes towards generating a positive brand image.
How Effective Call Routing Helps
As there are numerous call routing options available, putting an effective call routing strategy in to place will require an element of critical thinking and looking at things from the customer's perspective if it is to be successful in creating a positive brand image. Often the type of strategy that a business implements is determined by incoming call volumes, the number of available employees and their skill set, but to be effective must also consider customer expectations.
First up, not every business will need a highly complex call routing strategy. For some, dropping calls onto a simple "call group" -a ring group or a hunt group - may suffice while for others a more complex solution may be required (coming in part 3). This is where the critical thinking comes in as businesses will need to decide which strategy will best fulfil their customer needs and therefore generate the most positive experiences.
Before moving on to call routing strategies, it is important to understand that call routing can only be effective in combination with effective Auto Attendants and IVR systems. This is because no matter which of the following routing engines you decide upon, if your Auto Attendant or IVR isn't up to scratch then your inbound callers will be lost even before the routing engines have had a chance.
Call Groups
In the past, call routing options available to small businesses were pretty much limited to Call Groups as they had neither the call volume nor the resources to warrant or afford a full blown Call Center solution. Moreover, using call groups and call queues often involved expensive hardware. However, as technology has progressed and particularly with the advent of the software based IP PBX, more options have become available to SMBs. That said, call groups are still worth considering as sometimes they may well be the most appropriate option.
There are two main call group types; the Ring Group and the Hunt Group which are also known as parallel and sequential calling strategies as shown below:

Ring Groups
A ring group is the quickest and simplest form of call routing. In a nutshell, a ring group allows businesses to set up a group of employees and make all the phones belonging to group members ring at the same time. The main benefit of a ring group is that they ensure that calls are answered (or sent to voicemail) as quickly as possible.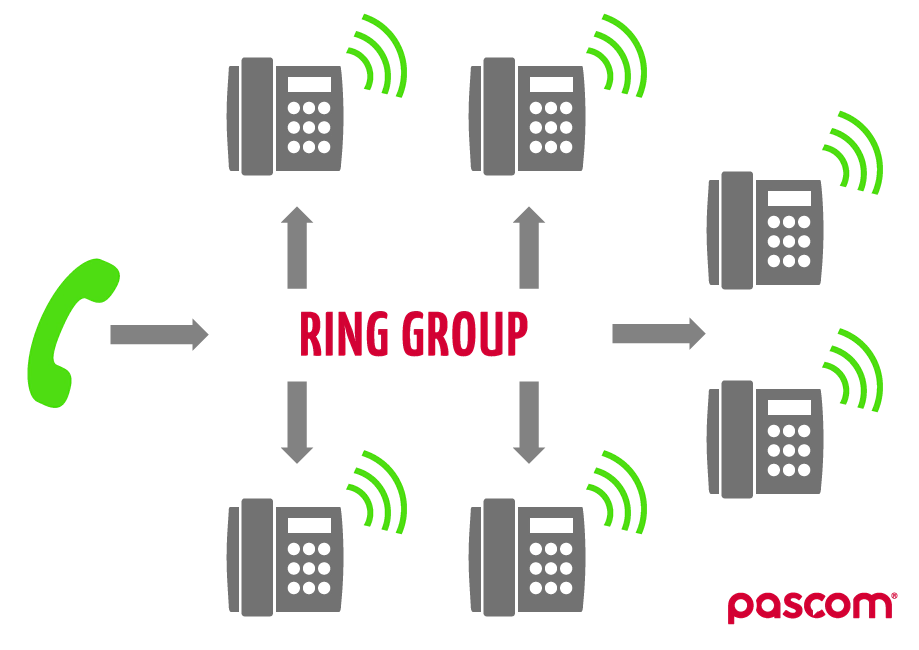 However, ring groups do have a couple of disadvantages including interrupting the work flows of every other member of the group when a call comes in which could affect their productivity. Another drawback of Ring Groups is that it is entirely possible that the least qualified employee may also be the quickest in answering the phones, which could also lead to negativity when it comes to customer interactions.
Hunt Groups
A hunt group differs from a ring group in that businesses can control the sequence in which member phones are rung. This has the advantage of ensuring that the member of the group who is the most qualified or experienced is always rung first before moving the call onto the next member of the group after a certain timeout criteria has been reached. A really good option here (and for ring groups) is to set up small groups for your teams such as Sales, Support, Accounts etc and then provide these as options in your Auto Attendant system as mentioned in part one of this series. This will then allow you to pre-define calls first before routing them to your groups.

This process is often known as a waterfall call flow as the calls cascade through the group according to member appropriateness to answer the call starting with the most ideally suited before moving onto the next best person and finally finishing with the least suitable person as shown below: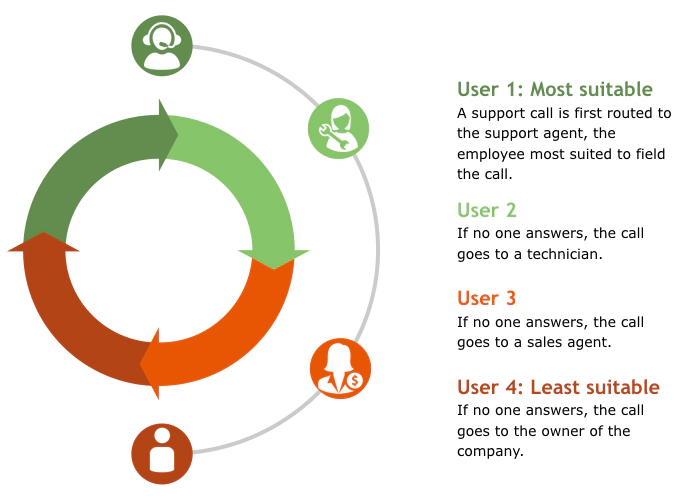 While hunt groups can deliver better customer service in terms of having the most ideally suited person being as the first port of call, they do also have a potentially damaging downside. Imagine the first employee does not answer, the caller has to wait for the time out to be reached before the call starts ringing on the next phone. Now imagine how the caller will be feeling by the time the second and third employees have also not answered the call.
Both ring groups and hunt groups have their limitations in that they do not solve the problem of engaged lines as well as not really ensuring that the most appropriate person answers the phone. This makes ring and hunt groups more suited for Small Office Home Office (SOHO) organisations and businesses at the smaller end of the SMB spectrum and in the case of hunt groups, they should only have a limited number of group members.
That's it for part 2 of our brand management series. Next time we will be back with more on generating a positive brand image using your business phone system by taking a look at how by using Call Queues and Automated Call Distribution provide even more effective brand management tools.
For more information on how the pascom phone system can support you with brand management and much more, check out our website or give us a call +49 (0) 991 29691 201
Alternatively, why not try our Free Edition and find out for yourself. It really is that simple.