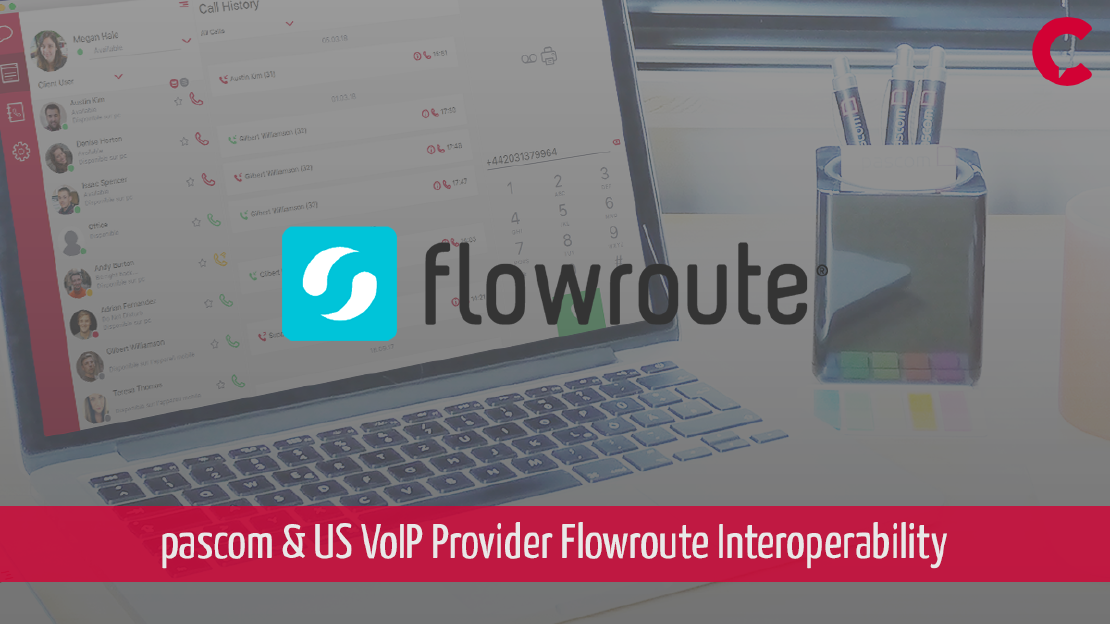 pascom Announces Interoperability with North American VoIP Provider Flowroute
14.03.2016
3 min read

pascom
pascom Successfully Complete Flowroute Interoperability Testing
14. March 2016 | Deggendorf, Germany & Seattle, USA - pascom GmbH, a leading developer of Unified Communication phone systems for business is proud to announce the successful interoperability certification with Flowroute, the leading US provider of advanced communication services. The certification verifies compatibility and documents configuration recommendations for pascom's business VoIP phone system used in conjunction with Flowroute's communications services. Certification sees the US based VoIP provider joining pascom's expanding global network of approved Interoperability Partners.
The successful certification ensures the full operation of all pascom phone system's features with Flowroute's SIP trunking service to deliver cost-effective, reliable calls for pascom customers while allowing them to maintain control of their entire communications solution. Thanks to the technical collaboration between both companies, as well as ongoing testing of the newly developed SIP provider template, customers can be assured of high and reliable call quality.
In addition to ensuring reliable and high call quality, the new template enables pascom phone system administrators to quickly and easily connect Flowroute to their pascom phone system within just a few mouse clicks by selecting the Flowroute SIP Trunking template from within the Gateway options menu of the pascom Administrator web UI. Doing so Flowroute services will automatically be configured for both inbound and outbound call rules.
Dan Nordale, Flowroute Chief Marketing Officer, said of the new partnership:
Flowroute customers expect the highest performance from their communications technologies and we appreciate pascom's drive to clear this high bar. Our customers push the envelope with communications and we have found pascom to thrive in these situations, so we know this formalization of our partnership is an important step for our joint customers. pascom's growing global customers base depend on flawless communications and we are eager for them to experience the Flowroute difference."
Mathias Pasquay, pascom CEO, stated of the new interoperability:
Our new interoperability partnership is great news for our pascom customers who will now be able to more easily gain maximum benefit from a combined pascom Flowroute VoIP solution. Further to this, welcoming Flowroute to the pascom family again demonstrates our commitment to supporting our customers worldwide in the delivery of top quality, hassle free communications."
About Flowroute
Flowroute is the leading provider of communication services for cloud-based companies. Flowroute gives developers and enterprises carrier-quality services with unprecedented performance, transparency and control to add voice and messaging capabilities into their apps and services to create unique user experiences.
Flowroute is privately held and headquartered in Seattle, WA. For more information: www.flowroute.com.
About pascom
Founded in 1997, pascom are the developers of next-generation UC Telephony Solutions and we upgrade business communications.
With pascom's innovative on-premise and cloud UC phone systems at the heart of your Communications, you will have a centralised, intelligent hub with which you can gain total control over your organisation's communications – no matter how diverse and dynamic your business communication channels.
Our solutions offer excellent scalability and are highly customisable to exactly match even the most specific customer requirements. Which is why our IP PBX solutions the perfect choice to support Small Medium Enterprises communicate smarter, more efficiently and more cost-effectively.
For more information about pascom Business Communications solutions, visit www.pascom.net or get started for free now.