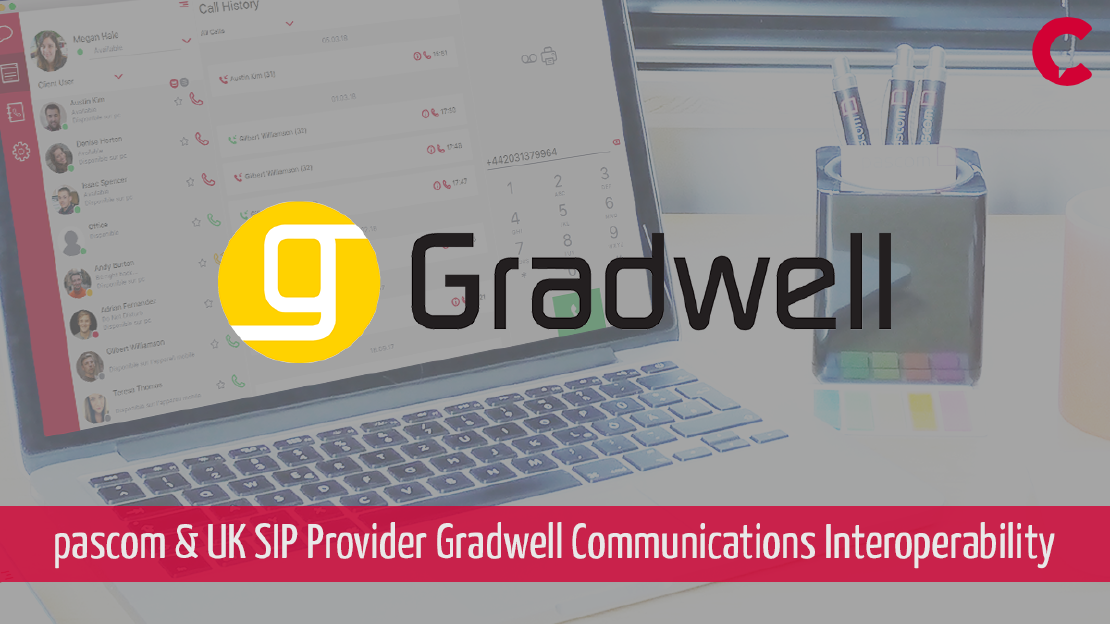 pascom Gradwell Communications VoIP Provider Interoperability
pascom and Gradwell Communications Successfully Complete Interoperability Testing
[Deggendorf, Germany & Bath, UK | 18. February, 2016] pascom GmbH & Co. KG, developer of the next-generation pascom phone system, today announce the successful completion of interoperability and compatibility testing with Gradwell Communications, an award-winning UK based SIP Solutions Provider.
The addition of Gradwell SIP trunking services to the pascom SIP provider database is great news for pascom customers operating within the United Kingdom market place. Moreover, as a result of the comprehensive testing, the complete range of pascom phone system features have been fully tested to ensure functionality and also ensures that mutual customers will benefit from being able to add, configure and utilise Gradwell VoIP services within just a matter of seconds thanks to a specifically developed provider template.
Moreover, interoperability between these two leading European voice over IP companies ensures that any businesses operating within the UK market place will be able benefit from productivity gains and significant cost savings thanks to a combination of Gradwell's excellent value and highly agile SIP services and pascom's business friendly and highly innovative pascom phone system.
Ryan Cox, SIP Product Manager, Gradwell Communications, mentioned of the successful interoperability testing:
As a UK SIP trunk provider, Gradwell are extremely excited to be working with pascom. This will open further avenues for customers who want a low cost flexible UC solution utilising Gradwell SIP trunks in tandem with the pascom IP PBX."
Mathias Pasquay, pascom CEO, said of the new interoperability;
Interoperability between Gradwell and pascom delivers obvious financial and productivity benefits to our customers who operate within the UK market. Furthermore, the new interoperability partnership supports pascom strategically as we continue to expand within the UK by making pascom an even more attractive solution for end customers and channel partners alike."
About Gradwell Communications
Founded in 1998, Gradwell Communications Ltd is a UK-based, 70+ employee, and award-winning provider of communications technology that works for small businesses. Their voice over IP (VoIP) internet-based telephony, superfast broadband and cloud communications solutions are currently used by over 22,000 small businesses and partners across the UK. Gradwell invests heavily in new technologies whilst supporting a business approach that strives to always give their customers a relevant, credible and memorable experience in addition to their robust telecommunications solutions.
For more information about Gradwell Communications, please refer to www.gradwell.com
About pascom
Founded in 1997, pascom are the developers of next-generation UC Telephony Solutions and we upgrade business communications.
With pascom's innovative on-premise and cloud UC phone systems at the heart of your Communications, you will have a centralised, intelligent hub with which you can gain total control over your organisation's communications – no matter how diverse and dynamic your business communication channels.
Our solutions offer excellent scalability and are highly customisable to exactly match even the most specific customer requirements. Which is why our IP PBX solutions the perfect choice to support Small Medium Enterprises communicate smarter, more efficiently and more cost-effectively.
For more information about pascom Business Communications solutions, visit www.pascom.net or get started for free now.