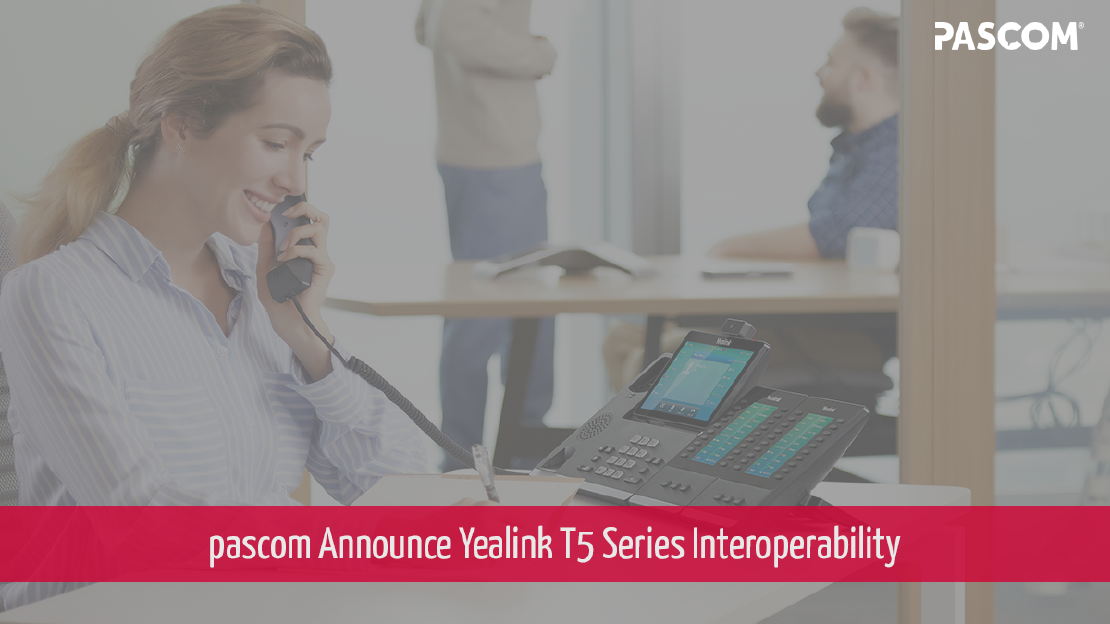 pascom Yealink T5 Series
pascom Add Yealink T5 Series Interoperability
March 15th 2019 | Deggendorf, Germany - pascom GmbH, a leading developer of Unified Communication phone systems for business, and Yealink, the worlds leading SIP phone vendor, today announce the successful conclusion of interoperability and compatibility testing between pascom's on-premise and cloud phone systems and Yealink's T5 VoIP phone series.
As the world's leading UC IP Endpoint vendor, Yealink are renowned worldwide for their quality, reliability and innovative design. The successful completion of testing ensures that pascom customers will benefit from the highest standards of quality and innovation whilst enjoying hassle free administration. Moreover, customers looking to upgrade business communications with a pascom solution can be assured pascom's full range of IP telephony and Unified Communications functionality with Yealink's T5 series of IP desktop phones.
Furthermore, the added interoperability ensures that mutual pascom / Yealink resellers can continue to set their offerings apart by delivering yet further added value to their customer solutions. As a result of the new interoperability, which was released with pascom phone system version 18.05, both existing and new pascom customers are in a position to benefit from the newest standards of VoIP security, design and innovation combined with a simple, efficient deployment process for both on-site and cloud deployments.
Mathias Pasquay, pascom CEO: Since the release of the Yealink T4 series, Yealink have gone from strength to strength. By adding the Yealink T5 series to our portfolio of supported desktop VoIP phones coupled with the recent addition of interoperability with their single-cell DECT solutions, we are now in a position to offer our customers the more choice across almost the complete range of Yealink products, ensuring we support them in leveraging maximum value, functionality and quality with a minimum of administrative hassle.
About pascom
Founded in 1997, pascom are the developers of next-generation UC Telephony Solutions and we upgrade business communications.
With pascom's innovative on-premise and cloud UC phone systems at the heart of your Communications, you will have a centralised, intelligent hub with which you can gain total control over your organisation's communications – no matter how diverse and dynamic your business communication channels.
Our solutions offer a complete communication and collaboration feature set, excellent scalability and are highly customisable to exactly match even the most specific customer requirements. Which is why our business communications solutions deliver the perfect platform to support Small Medium Enterprises communicate smarter, more efficiently and more cost-effectively.
For more information about pascom Business Communications solutions and becoming a pascom partner, visit www.pascom.net and start upgrading business communications today with our free VoIP phone system edition now.