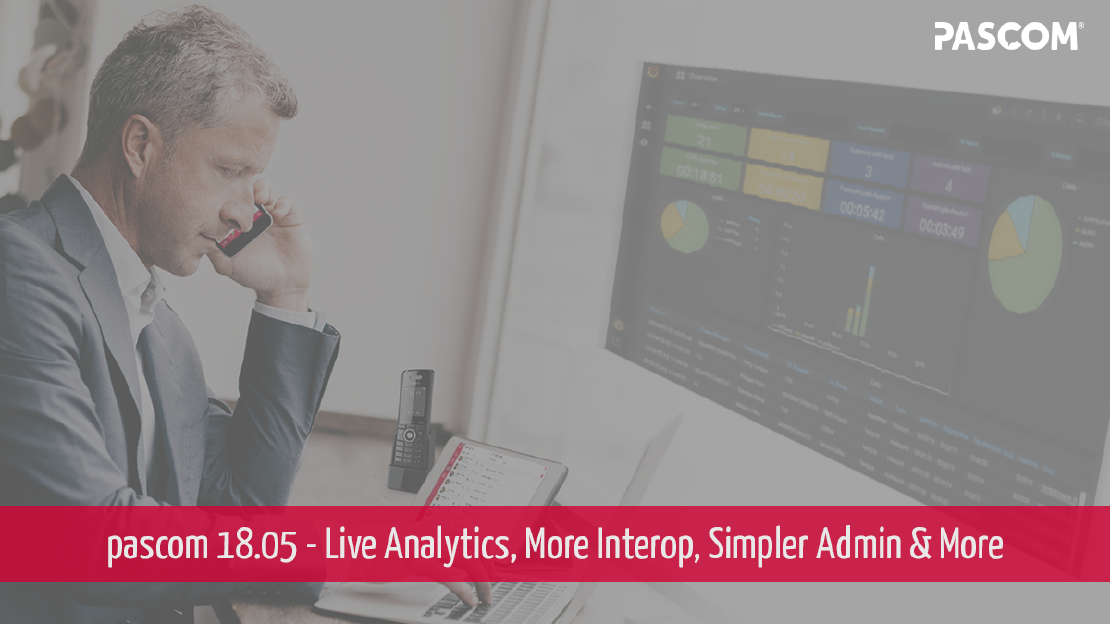 pascom 18.05 Phone System Release
Live Analytics Wallboard, Simpler Management And Hosting For All – pascom 18.05 Has Arrived!
True to our word and right on schedule, with pascom 18.05 we have brought back and updated our much loved "Flexpanel" analytics wallboard feature. What's more, we've taken the feedback from our customers and partners and we're releasing some nifty enhancements and upgrades to make pascom 18.05 not only better, but also to make managing and using our platform simpler and more efficient.
Empowering Contact Centre Performance with pascom Analytics
In the world of the digital transformation, data is king, particularly as today's customers demand excellent customer service 24/7. This is the challenge for modern businesses: to be successful, they must continuously monitor and identify potential risks whilst having the ability to proactively optimise their customer contact processes.
Without data, making informed decisions is nigh on impossible, but having too much raw data is just as troublesome. Having access to too much data leads to confusion and results in over complication. The key to delivering excellence is quick, uncomplicated first contact resolution, meaning businesses need to empower their employees and team leaders with access to all the tools in their digital armoury to ensure the highest standards of performance.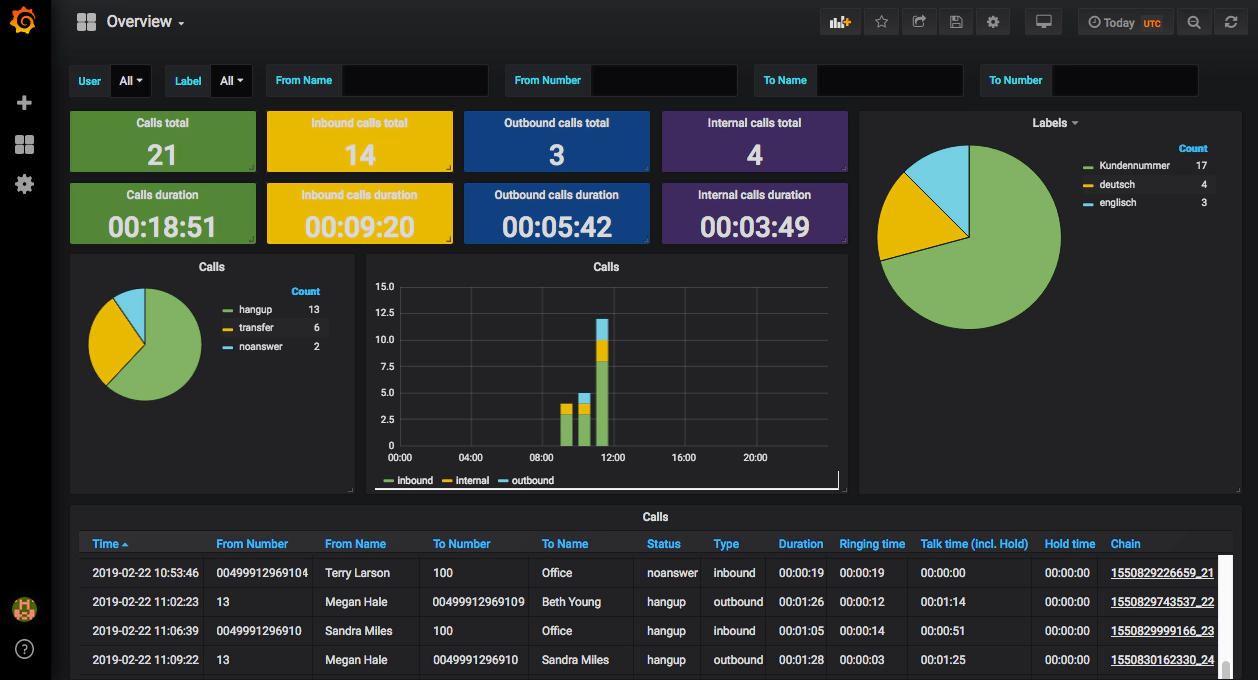 With pascom 18.05, we have integrated our new pascom Live Analytics web based wallboard tools. Being web-based, the new wallboards can be quickly and simply customised to the individual needs of your business in order to provide you and your team with an instant real-time performance overview of your entire contact centre telephony.
Local Device DHCP Provisioning via the Cloud
Cloud communications are the future in that they offer a significant array of advantages from added redundancy, simpler more efficient remote worker and mobile device management plus considerable cost savings. However, on-boarding endpoints to your cloud solution from your local network poses certain difficulties for the IT department. Other vendors have gone down the route of foregoing endpoint security; others have sacrificed functionality for speed.
Not so with pascom. From 18.05 onwards the automatic DHCP provisioning of local network endpoints via the cloud will be supported without any loss of functionality and with no degradation of endpoint security thanks to deployment of an OpenVPN client specifically for the purpose of device provisioning.
New & Improved Voicemail Management Tools
Gone are the days of calling your voicemail inbox and sifting through message after endless message. Thanks to the updates to pascom 18.05's voicemail management system, it is now possible to manage, check, listen and even download to all your voicemails in one place, i.e. directly within your desktop client.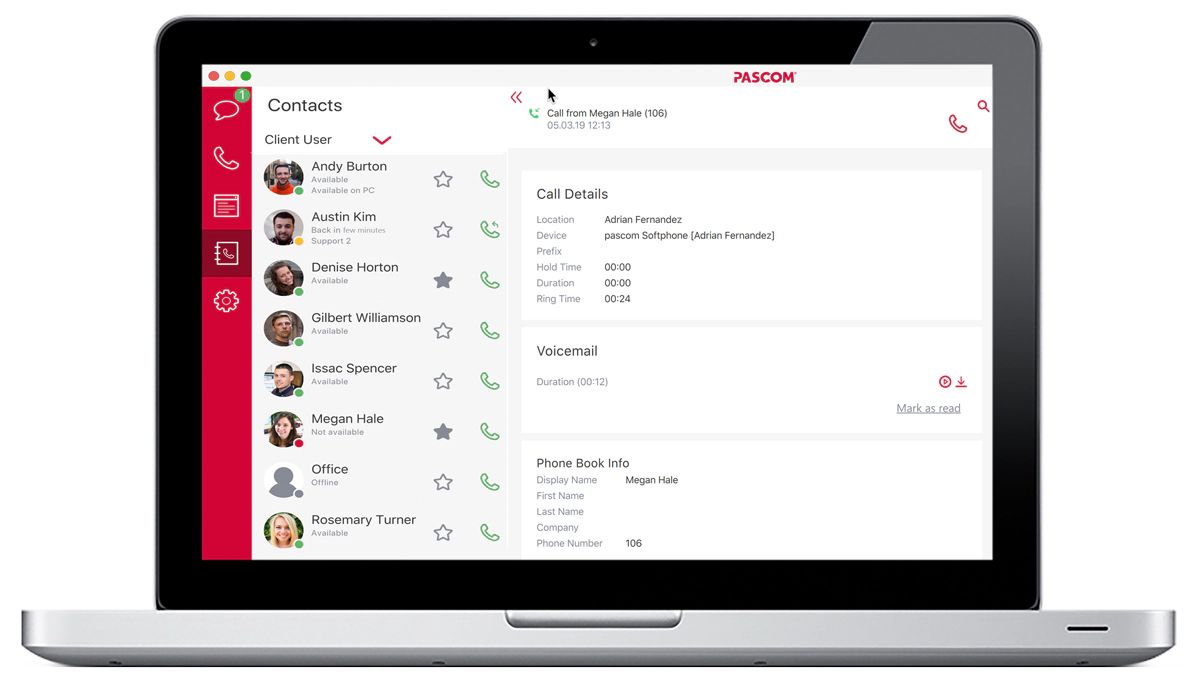 Simply login to your desktop client and view all your voicemails directly from within your call history. Been away from your desk for an hour or two, then all voicemails will be flagged next to the corresponding calls. Been out of the office for a longer period of time or been on holiday for a few weeks, then simply use the in-built filter from the drop down menu in the call logs and get an instant overview of all your voicemails.
To listen to a message, simply click on the play button and once you're done with a particular message, simply mark it as read and that's it. Alternatively, should you wish to download a message for safekeeping or for internal use purposes, then just click on the "download" icon.
Hosting For All
As we introduced pascom 18 last year, one of the core USPs of the platform was undoubtedly that pascom 18 offers a 100 % cloud ready solution, even including free pascom.cloud hosting. Further to this, all our resellers already have the ability to host their customer solutions directly within our cloud infrastructure and now with pascom 18.05 we are going one step further.
Just like us, a significant portion of our resellers have recognised the business development potential of cloud service offerings and are themselves Managed Service Providers or offering their customers hosting services. Now with the release of pascom 18.5, we are making our multi-tenant cloudstack technology available to all our resellers, thus ensuring that our resellers can offer their hosted customer solutions directly from their cloud.
Now while in-house hosting is not suited for every reseller, through offering hosted voice and UCaaS solutions via our pascom 18.5 cloudstack platform, our CSP partners are well positioned to enjoy numerous benefits. Firstly, the setup and ongoing management of their customer's hosted business communications solutions will be greatly simplified and secondly the CSP is in a position to retain 100% control of the customer relationship.
This milestone is a significant step to ensuring that no matter the scenario, our pascom customers will always be able to benefit from secure, hosted solutions, either directly in the pascom.cloud as a pascom or pascom partner managed service or via one of our highly certified Cloud Service Provider partners.
For more about pascom 18.05 and an overview of what's new, visit our website or better yet, try our free edtion now either on-premise or with free hosting in the pascom.cloud.