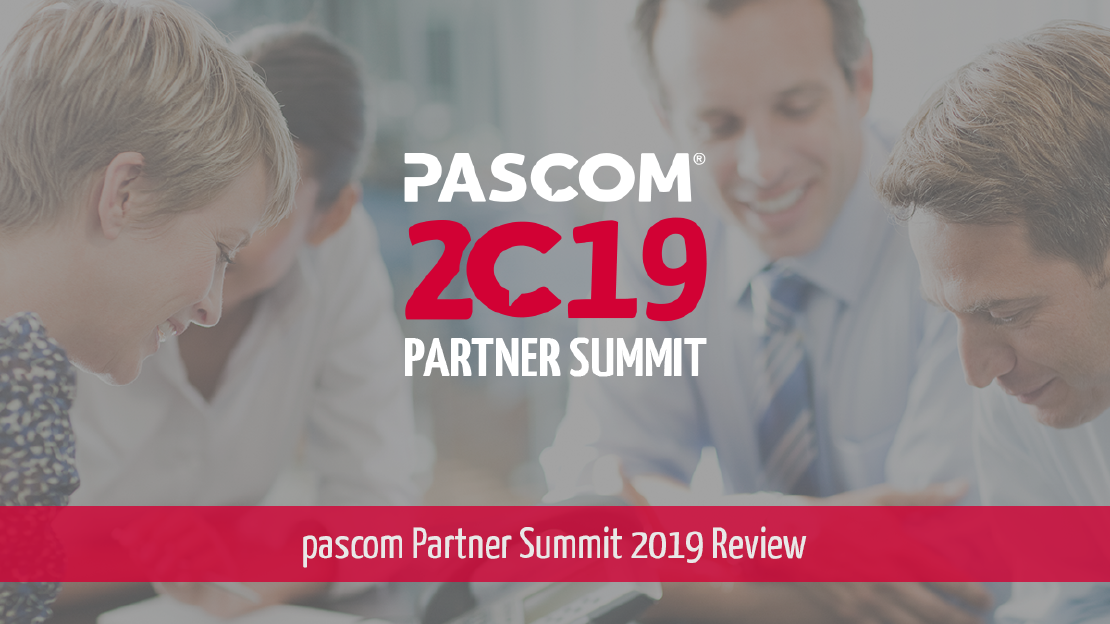 pascom Partner Summit 2019 Review
08.02.2019
4 min read

pascom
pascom Resellers Kick Off 2019 at Annual Partner Summit
Let me start by saying a massive thank you to all our pascom phone system resellers and partner summit sponsors who joined us in Regensburg last week. Despite the wintery conditions that have held a vice like grip over parts of Bavaria, Austria and Switzerland during the previous weeks, we enjoyed a 95% attendance – which I have to say is top draw stuff!
News from the Summit
First and foremost, the pascom partner summit continues to grow which is obviously exciting in of itself. In 2019, the audience grew by a significant 118%, which just goes to show that we love engaging with our partners and we will strive to continue in this fashion in everything we do.
Furthermore, the stats and the feedback paint a colourful picture. As reported by Mathias Pasquay during his review and roadmap segment, compared to the same period in 2017, the statistics confirm that since the release of pascom 18 and the restructuring of our business model, we have enjoyed positive growth in all aspects of our business. Beyond this, the partner feedback sessions reaffirmed that the changes to our licensing, partner programme and telephony platform, which we introduced with pascom 18, have all combined to bolster partner sales successes, which is obviously fantastic to hear!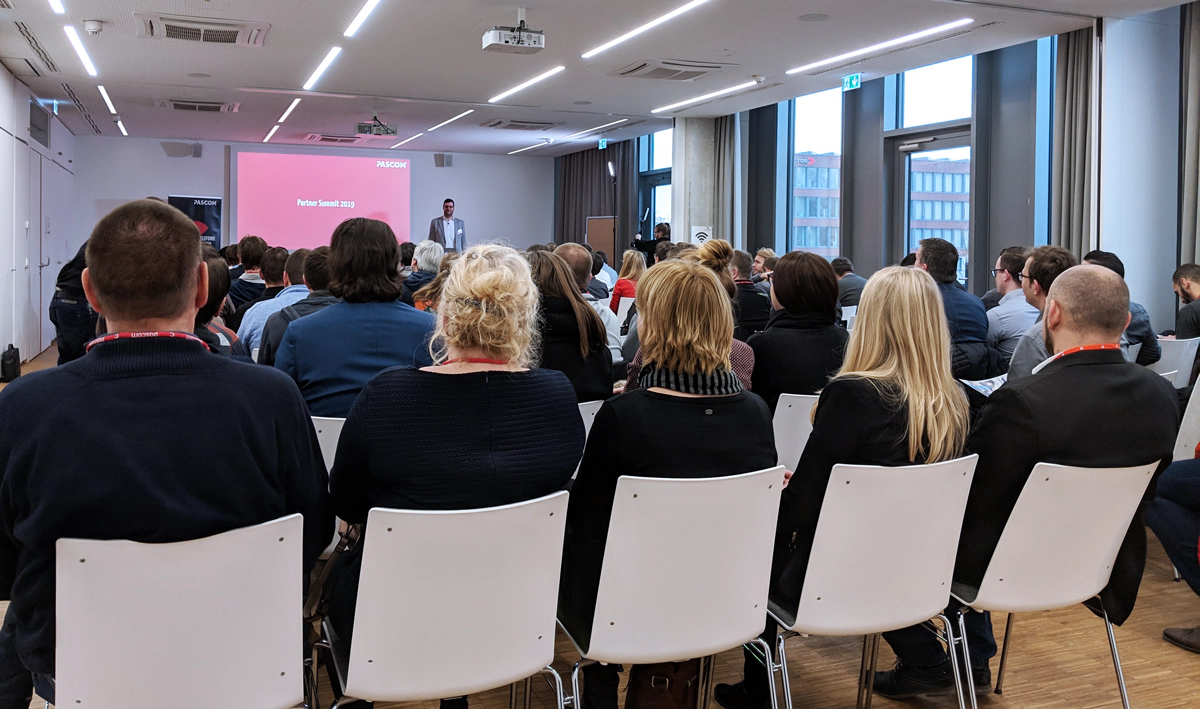 Coinciding with the summit, we also release pascom phone system version 18.04, which incidentally also includes the option of automatically setting up a free peoplefone SIP trunk account including 10 € of Airtime. Coupled with the ease and speed with which it is now possible to setup up a new free instance, this new functionality and collaboration with peoplefone serves to provide all new potential customers with an out of the box telephony solution that can be put into operation almost immediately.
Cloud is Now Mainstream
A notable growth area that we have witnessed since the release of pascom 18 is in the adoption of cloud telephony solutions which has grown a whopping 1000 + percent! Okay, this figure is somewhat exaggerated by the fact that previous cloud sales were not monumental, but it just goes to show that customer acceptance of cloud telephony across the D-A-CH region is on the rise and is now well and truly mainstream. Therefore, it goes without saying that the response to pascom.cloud hosting being included in the licence fee and not as an additional add-on for customers was also overwhelmingly positive.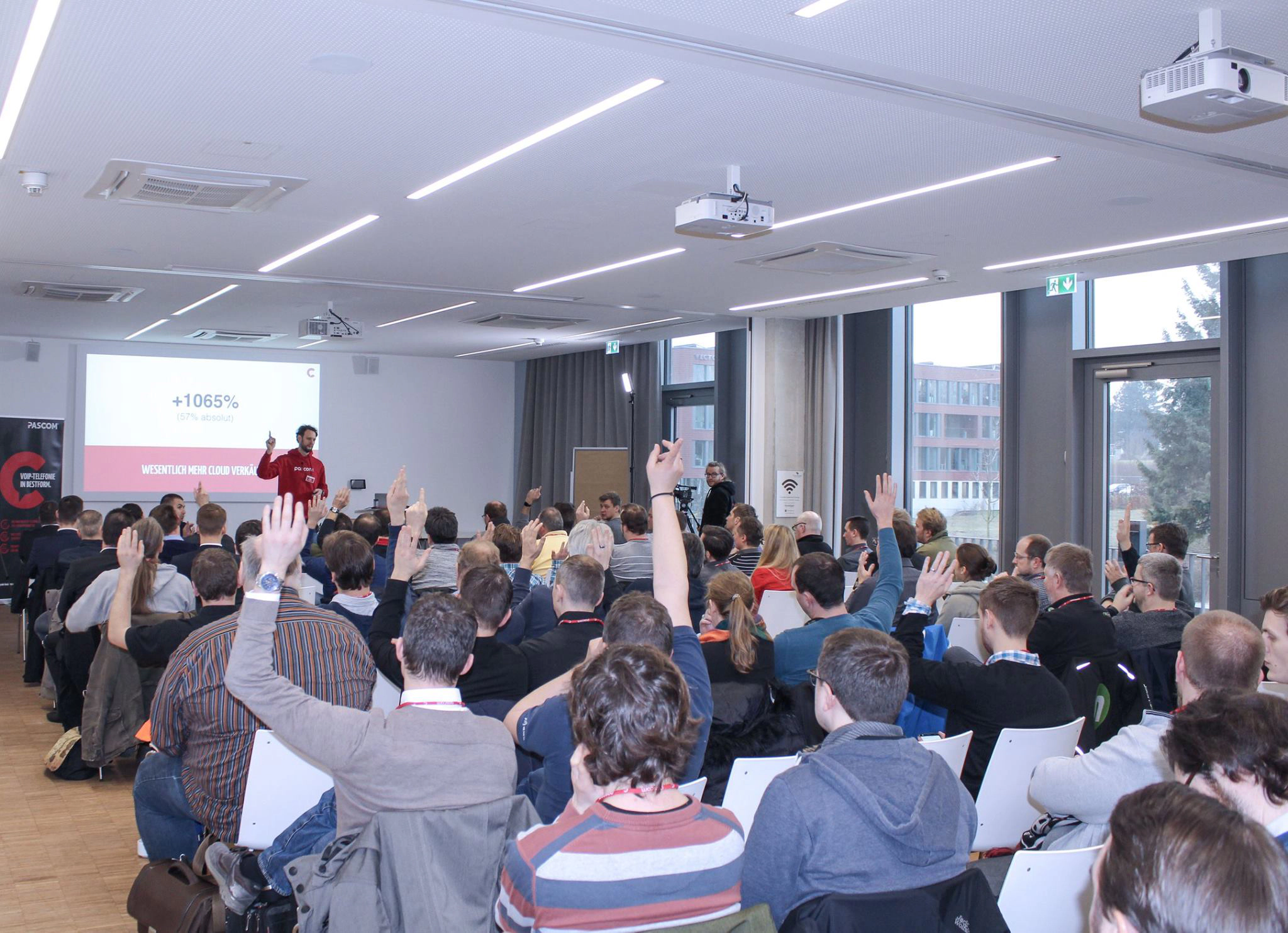 Workshops and Networking
pascom 18 is still relatively new, meaning that existing partners likely have a number of customers still on the older pascom 17 platform. So it is just as well then that the team where on hand to deliver a pascom 18 migration workshop, performing a step by step migration to clearly demonstrate how existing customers can switch to the new platform and therefore enjoy even greater added value from their communications solution.
Throughout the event, we also played host to leading telecommunication industry names including VoIP phone and DECT solution specialists Snom, Mitel, Grandstream and Yealink as well as SIP carrier partners Easybell, peoplefone and HFO Telecom. As usual, the Sponsor Podium was well used by our audience, who benefited from the insider insight of our technology partners as well as grasped the opportunity to inform themselves on the latest goings on and trends within the industry.
In addition, ample time was planned into the agenda to allow our resellers and technology partners to get in some networking and delve into one to one discussions concerning particular products or projects. In the exhibition area, Snom was a particularly well-visited sponsor stand this year. Perhaps unsurprisingly so, as not only do the new Snom devices have plenty to shout about, but the team in Berlin also graciously offered to give away a top of the range Snom D385 VoIP phone to each and every attendee – an action that was particularly well received as you can imagine.
The Future of Business Communications
A hot topic throughout the show was of course the future of business communications and the pascom product development roadmap. With the ISDN shutdown and the transition to All IP and Cloud platforms still impacting todays' market, the obvious question on everyone's mind was "what's next"? Well for the time being it seems that our resellers and technology partners agree, it doesn't appear that the way we communicate will undergo any radical transformation in the very near future. The desktop phone is not going to die overnight, SIP trunking adoption will continue and the trend towards a more mobile, more collaboration, more service orientated infrastructure will continue gaining momentum.
For full details of the pascom roadmap, well they are classified and don't belong in the public domain, so you will just have to gain clearance and attend one of our partner events to find out more.