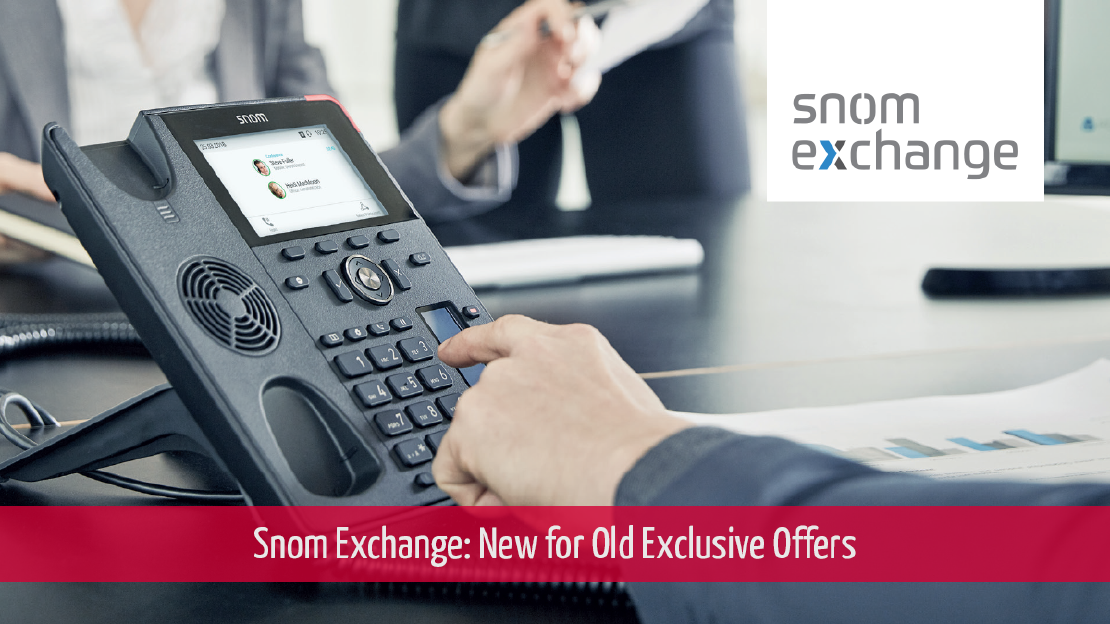 Snom Exchange: New For Old
Upgrade Business Telephony with pascom and the Snom Exchange
Within the IT world, it is common knowledge that the older the infrastructure, the higher the potential risk whether it be hardware failure, lack of support or worse still, potential security issues. Plus there are other benefits to upgrading your infrastructure and when it comes to business VoIP phones, we are talking about enhanced audio quality, new functions, simpler management and cutting edge design. So if you are an existing pascom / Snom customer or even a Snom customer interested in upgrading your business communications with pascom, read on as we've got a great upgrade offer for you.
We think it is fair to say that you probably have a number of Snom 320's or 760's scattered around your office. As Snom are the pioneering Desktop VoIP phone vendor, it shouldn't really come as a surprise. The problem is that these devices are now end of life, meaning less or no support, lower functionality, out of date design and most importantly inherently less secure. Moreover, as a pascom customer, it is also important to know that from pascom 19 onwards, the Snom 3xx and Snom 7xx series of VoIP devices will no longer be supported.
The good news is here's your chance to swap out all those telephones and benefit from an exceptional trade-in bonus to sweeten the deal – which will make winning over the finance controller that much easier as well.
Which Telephones Are Included?
If you are the proud owner of any of the below Snom VoIP phones, then you are eligible to benefit from the Snom Exchange programme:
| Models | |
| --- | --- |
| Snom 300 | Snom 320 |
| Snom 360 | Snom 370 |
| Snom 710 | Snom 720 |
| Snom 760 | Snom 820 |
| Snom 821 | Snom 870 |
By trading in your old Snom phones from the above list for any of the below brand new, ultra modern Snom VoIP phones:
| Snom Models | | |
| --- | --- | --- |
| Snom VoIP phone D315 | Snom VoIP phone D335 | Snom VoIP phone D385 |
| Snom VoIP phone D717 | Snom VoIP phone D735 | Snom VoIP phone D785 |
How Does Snom Exchange Work?
The Snom Exchange programme is actually pretty straightforward. All you need to do is follow these simple steps:
Select and purchase your new Snom phones from the list above directly from pascom
Send us the MAC addresses of the devices to be traded in
The ordered phones will be sent to you and you will benefit from the Snom Exchange bonus discount.
What's On Offer?
To celebrate the launch of the Snom Exchange programme, together with our partners at Snom, we are offering a limited time double trade-in bonus. Meaning that, depending on the new device(s) you choose to upgrade to, a tiered exchange bonus as follows is on offer:
| Device | Exchange Bonus |
| --- | --- |
| Snom D315 / D717 | € 14 |
| Snom D335 / D735 | € 18 |
| Snom D385 / D785 | € 24 |
In addition to the Snom Exchange programme, an Exchange Plus programme is also available which includes any audio conferencing or headset devices that may also need to be upgraded as a result:
| Device | Exchange Plus Bonus |
| --- | --- |
| A150 | € 14 |
| A170 | € 18 |
| C52 (incl. DECT Dongle) | € 24 |
pascom Snom Exchange: Who Can Benefit?
The pascom Snom Exchange programme is available in conjunction with a pascom phone system subscription. Meaning the programme is open to all existing pascom / Snom customers as well as new customers looking to upgrade their business communications with pascom.
Existing pascom Customers
Existing pascom customers can benefit from either of two options. Firstly, they can simply upgrade the Snom endpoints they already have deployed without requiring any changes to their pascom subscription. Alternatively, existing pascom customers can enjoy yet more value for money with 1 Year Free by either changing their onsite installation to the new subscription model or migrating their business communications platform to the pascom.cloud including pascom hosting.
New to pascom?
Are you new to pascom, interested in upgrading your business communications AND have a number of Snom phones that could be upgraded? If the answer is yes, then you too can benefit. When choosing your pascom subscription, let us know how many Snoms desktop VoIP phones you want to trade up and we will gladly pass on the price saving benefits of the Snom Exchange programme.
Furthermore, if you are upgrading from pascom from either 3cx or Nfon, then our 1 Year Free trade-in offer also applies, saving you your first year subscription and permanently free hosting if you choose the pascom.cloud.
Final Word
For more information about pascom, our pascom phone systems and the Snom Exchange trade in offer, give our team a call on +49 991 29691 200 and get started within minutes using our free hosted business VoIP phone system edition.