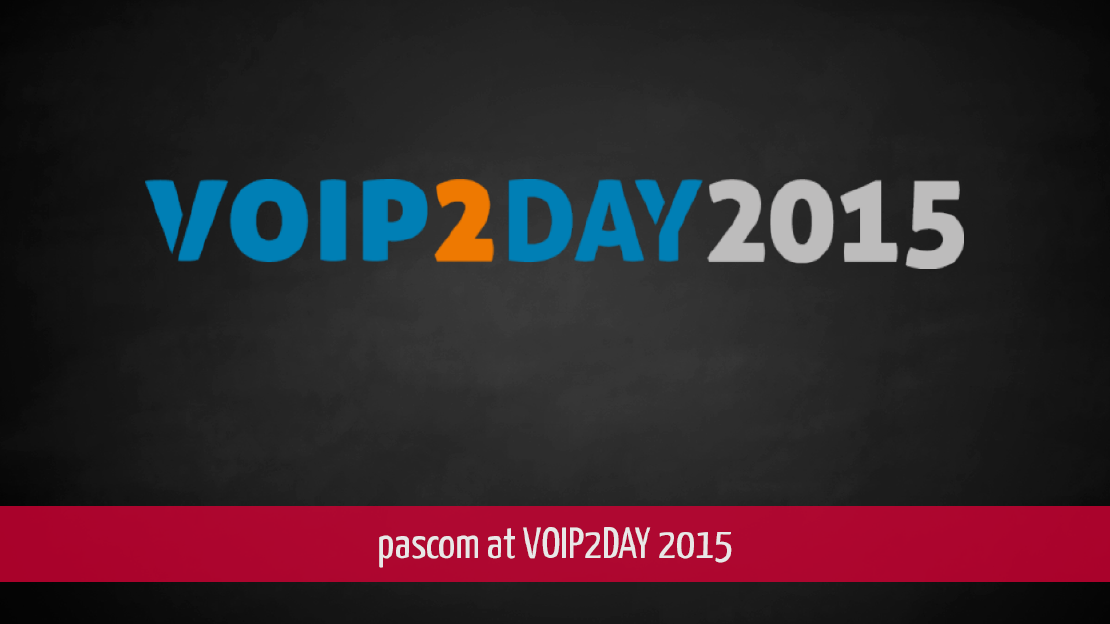 VoIP2Day pascom Goes To Spain
Micropyme and pascom attend VOIP2DAY 2015
[Deggendorf, Germany & Madrid, Spain | 16th November 2015] pascom GmbH & Co. KG, developer of the innovative, admin and user friendly pascom phone system software, continued their European expansion and further reinforced the company's commitment to supporting its partners by attending VOIP2DAY in Madrid along with Micropyme S.L., pascom's Value Added Reseller for the Spanish market.
For more event pictures, please visit our Pinterest page.
Held at the world famous Real Madrid Santiago Bernabéu Stadium between the 11th and 12th November 2015, the event was hosted by Iberian VoIP distributor Avanzada 7. The event included a range of workshops and conferences which attracted leading names and influencers from across the VoIP industry, making VOIP2Day 2015 the ideal event for pascom to make its first appearance in the Iberian market place.
James Barton, pascom Channel Marketing, speaking after the event:
As the leading Voice over IP exhibition within the Spanish market, our attendance at the 2015 event was essential, not only as pascom's first official outing in Iberia but also to reaffirm our commitment to supporting our Resellers and Distributors no matter where they are as we continue our growth. As an event, our presence at VOIP2DAY 2015 attracted a great deal of interest for both pascom and Micropyme which bodes well for our future in the market.
Juan Luis Picazo, Managing Director Micropyme, commented on attending VOIP2Day:
The two days are VOIP2Day were two really exciting and interesting days, during which, thanks to the presence of our partner pascom, we were able to present and demonstrate the pascom phone system as a cost effective, flexible unified communications solution to all those who visited VOIP2DAY. We are convinced that over the coming months and years PASCOM will begin to play an important role in the VoIP market in Spain, as it has in the major European markets. Thank you very much to pascom, and especially James Barton for joining us and supporting us in this event, which we hope can be repeated in the coming years.
During the event, both companies held a combined workshop during which pascom's next generation software based PBX was officially introduced to the Spanish market, discussing not only mobydick's Unified Communications capabilities but also introducing mobydick as a Next Generation Contact Center (NGCC) solution. The workshop served to generate significant interest in the product and further boosts mobydick's growth prospects in the Iberian market place.
About pascom
Founded in 1997, pascom are the developers of next-generation UC Telephony Solutions and we upgrade business communications.
With pascom's innovative on-premise and cloud UC phone systems at the heart of your Communications, you will have a centralised, intelligent hub with which you can gain total control over your organisation's communications – no matter how diverse and dynamic your business communication channels.
Our solutions offer a complete communication and collaboration feature set, excellent scalability and are highly customisable to exactly match even the most specific customer requirements. Which is why our business communications solutions deliver the perfect platform to support Small Medium Enterprises communicate smarter, more efficiently and more cost-effectively.
For more information about pascom Business Communications solutions and becoming a pascom partner, visit www.pascom.net and start upgrading business communications today with our free VoIP phone system edition now.
About Micropyme
Micropyme is a Spanish IT company with more than 14 years of experience working with Linux solutions. As a system integrator, they have over been providing Asterisk based VoIP solutions for over 10 years and are renowned for delivering excellent levels of customer service, consultation, project implementation and support to the Spanish SMB market.
Mircopyme's status as a market leading solutions integrator in the field of voice over IP is further demonstrated through both their SELECT Digium partnership and now their pascom authorised mobydick partner status.
For more information about Micropyme, please visit www.micropyme.com or contact them on +34 917 88 22 77