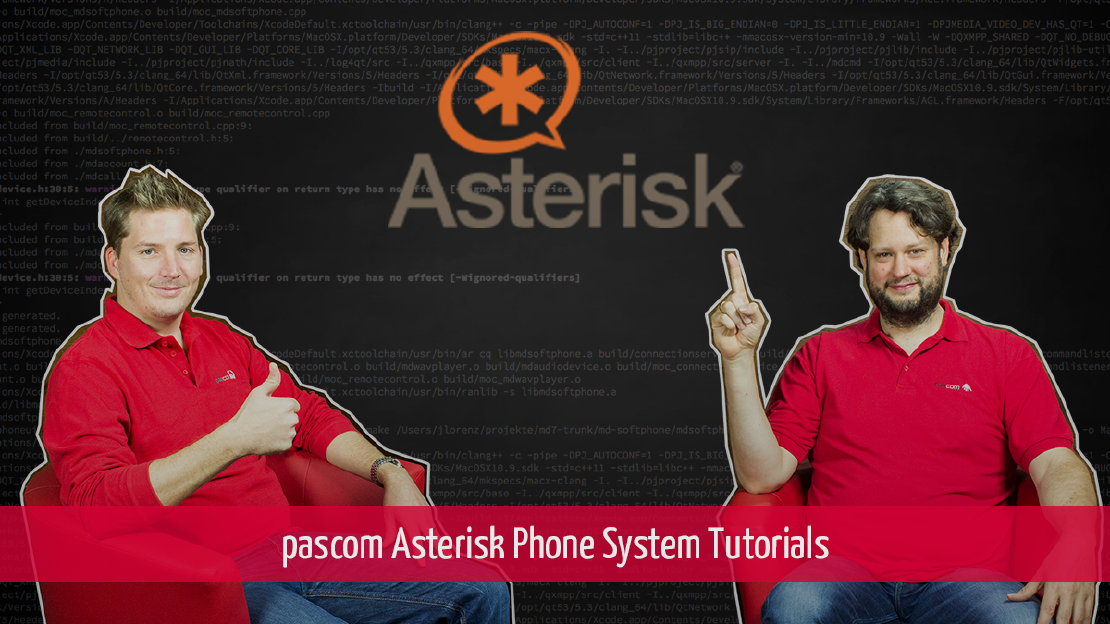 Asterisk Tutorial 32 - Advanced Asterisk IVR Menus
23.11.2015
3 min read

pascom
How to Configure an Advanced Asterisk PBX IVR Menu
We're back and we've got some news for you plus some grovelling to do. Last week I was at VoIP2Day 2015 in Madrid and the week before we moved offices (back into our newly refurbished offices) both of which sadly meant we were not able to get this tutorial done, dusted and online for you — terribly sorry about that.
BUT the good news is, we are back and what's more, the new studio is up and running, meaning making these tutorials will be much easier and quicker than before. Although the studio is not quite finished, we just felt we simply had to get this tutorial done so as not to disappoint you all — and here it is!
That means that it is now time to take a look at some more advanced Asterisk IVR menu configurations as well as having a look at how to use the invalid (i), exception (e) and timeout (t) functions when configuring your IVR menus in Asterisk.
Mathias' Top Tip
It is quite a good idea to differentiate between "i" and "e". Distinguishing between the two options will provide you with more flexibility to manage call flows more effectively. For example, being able to perform a certain action for when a caller makes a mistake by selecting an invalid entry and a different action for when they make no selection at all. If this is not the behaviour you require, then you can simply use the "e" Exception function which will "catch" every scenario and perform the same action no matter whether an invalid entry or timeout error was reached.
Next time around we will take a look get even more advanced with our Asterisk IVR menus.
Final Word - We Upgrade Business Communications
A well-configured business phone system that oozes useful tools, delivers excellent audio quality and intuitive call flows will leave callers with a highly professional impression. The configuration options and application availability and how well they are utilized will have a decisive impact on the level of profressionalism when it comes to call management and therefore how your customers view your company. The switch to a pascom VoIP phone system solution provides the opportunity to not only upgrade your internal collaboration but also to redefine telephony in your company.
If you would like more information regarding pascom and our Asterisk based Software PBX, please visit our website or give the pascom team a call on +49 991 29691 200 to discuss your requirements and get started within minutes using our free hosted asterisk business VoIP phone system edition.
Until next time — Happy VoIPing!