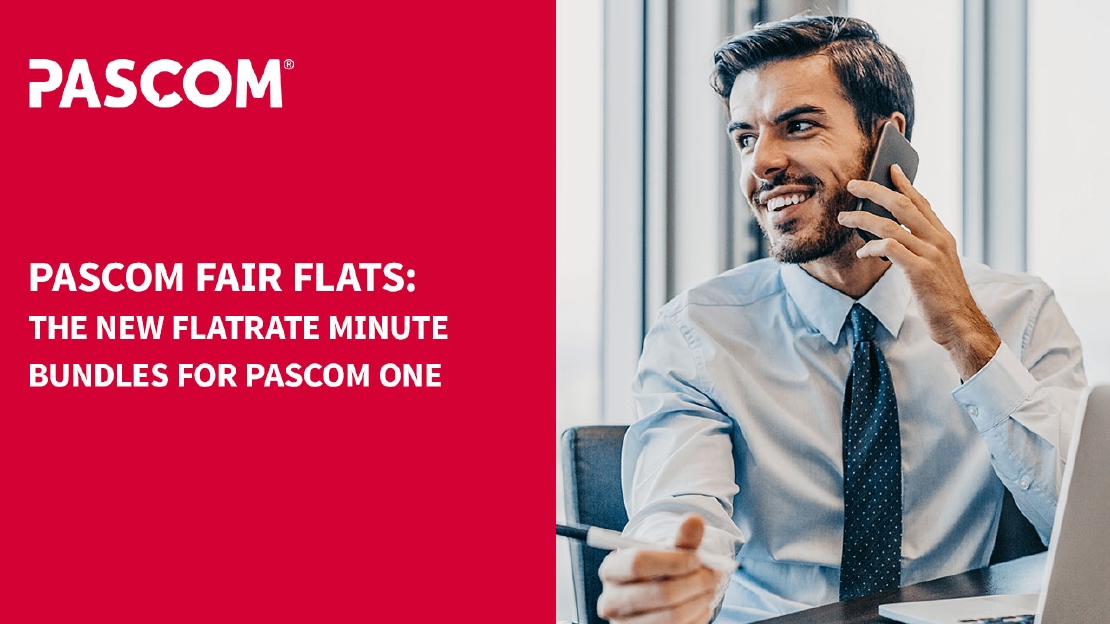 pascom Fair Flat: New Flat-Rate Voice Tariffs
July 18th, 2022 | Deggendorf, Germany - pascom GmbH, a leading Business Communications solutions provider, today announce the launch of the pascom Fair Flats, the company's new flat-rate Business Telephony offering for the German market. The pascom Fair Flats are the latest step in pascom's evolution as an all-in-one cloud communications solution provider and will further enhance the company's position within the German cloud phone system and collaboration market.
Following on from the launch of pascom ONE and the addition of Business Voice and SIP Trunking services in November 2021, the new Fair Flat tariffs are a significant milestone as the company transitions into a complete cloud communications provider and will ensure that pascom solutions retain their competitive edge within the market as customers look to consolidate their telephony and collaboration solutions with all-in-one solutions.
The addition of flat rate SIP trunking tariffs will enable pascom customers to save further on their telephony bill whilst delivering extra financial transparency thanks to reducing the number of suppliers and monthly invoices. The four voice minute bundle options (S, M, L, and XL) offer pascom customers the freedom to choose the voice tariff that perfectly suits their business requirements and goals, whether per minute or as a flat-rate option. Depending on call volumes, by opting for a pascom fair flat bundle, pascom customers can enjoy an up to 66% reduction in monthly phone bill costs 1.
As the market trend toward all-in-one business communication solutions continues to strengthen, pascom's flat-rate voice options will also offer significant advantages to pascom partners. With pascom ONE and the new Fair Flat options, pascom partners are well equipped to provide customer solutions that meet all the demands of the modern workplace for all business sizes. As such, the Fair Flat SIP trunking add-ons for pascom ONE offer pascom partners an additional revenue source and allow pascom partners to add even more value as they meet and go beyond customer expectations.
Mathias Pasquay, pascom CEO
Cloud telephony customer expectations have moved away from the simple PBX. Today, customers demand all-in-one business communications solutions that combine all their communications channels into one platform, available everywhere and all for an affordable monthly fee. With pascom Fair Flats, we now tick all the boxes from Business Voice to Team Messaging, Mobile Collaboration and Video Conferencing. In doing so, we have created a compelling argument for customers to choose pascom and pascom ONE.
Discover pascom
If you have any questions about PASCOM ONE, our Team Messaging and Collaboration apps and how pascom can help your business prepare for tomorrow's workplace, then we are here to help. Just give us a call on +49 991 291691 200 and speak to one of our experts. Alternatively, get started today with our free cloud phone system trial.
1 When compared to pascom per minute pricing.