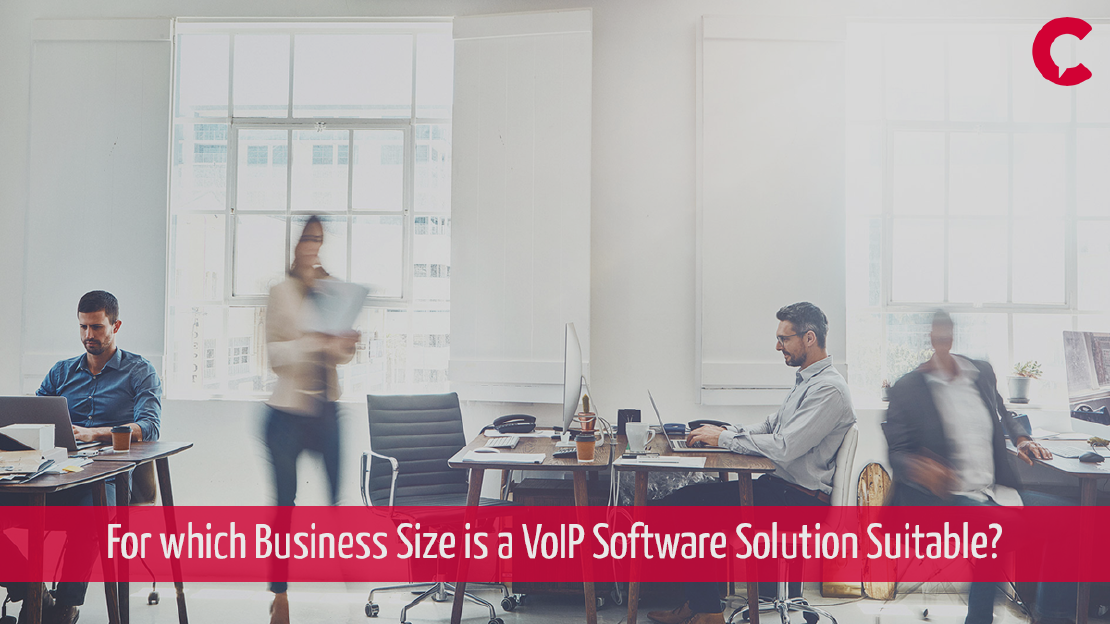 VoIP The Scalable Business Phone System Solution
For which Business Size is a VoIP Software Solution Suitable?
From the SMB through to large enterprise and Call Centers, the efficiency of business communications depends heavily on the stability, availability and protocoling of customer interactions. Our VoIP solutions support businesses achieve just this whilst facilitating the migration away from ISDN telephony to the modern world of IP telephony. Choosing the most suitable solution type will depend on a number of factors including business size, number of voice lines to be switched and your businesses quality requirements surrounding voice, recordings and mobility. Learn how by deploying a solution such as pascom's on-site or cloud IP telephony platform, your business could benefit from upgraded business communications and how VoIP solutions supported vastly improved workflows from office users to Contact Centre employees.
Just remember, when migrating to VoIP and SIP solutions, it is important to look at the new solution not as a like-for-like replacement to your legacy solution, but rather look at the bigger picture and consider what further opportunities, benefits and enhancements the new solution has to offer.
How is VoIP Telephony Different?
In the past, if you wanted to deploy a SMB phone system or Contact Centre solution with multiple connections distributed across numerous numbers, you would have needed to install an ISDN PBX. To connect to the dialup network, it was necessary to ensure each telephony workstation was equipped with suitable hardware. The telephony connection ran over the cost intensive ISDN connection. Nowadays, with the migration from ISDN to SIP, things are a bit different. Instead of deploying, relocating and maintaining a complicated hardware system, why not communicate with a State of the Art pascom appliance, pascom virtual or pascom cloud solution and utilise your Internet connectivity. With intuitive and easy to use end-user applications and mobile VoIP clients for Android and iOS, making and receiving calls and mobile collaboration could not be simpler.
Small medium businesses in particular are able to profit from the cost savings and additional flexibility offered by VoIP as employees are able to use the solution from anywhere and at anytime or any device. In addition, cutting edge VoIP solutions increase call audio quality. The beauty of IP or Internet Telephony is that is can be used by all IP enabled devices in excellent audio quality. Even in-built microphones make a difference to the simple, clear digital voice transmission. With VoIP telephony, issues such as echo, interference and connectivity issues stemming from too many lines have now been consigned to things of the past.
Migrating from the ISDN to VoIP with pascom
pascom offers a range of solutions that can be perfectly tailored to different business models, ensuring that customers receive the exact service that they really need. With our pascom appliance, virtual and cloud options, our customers are able to experience their business communications being taken to a new level. Our goal is to make your switch from the ISDN as quick and effortless as possible. Even larger SMB Contact Centres and Call Centres can enjoy an efficient, smooth migrations process thanks to the active support provided by our service team.
Necessary Steps:
Ensure that the required hardware is available or already deployed. You will require a high performance router, IP phones or mobile devices, Analog adaptors to connect analog fax devices etc., headsets and PCs or notebooks.
Together with us, next you will need to select the appropriate solution type for your business. Regardless of whether you choose a pascom hardware server, virtual PBX or cloud phone system.
Select a system administrator to manage system maintenance and upgrades, or schedule a training for all employees to be qualified.
You will receive from us all the necessary software applications covering everything from system administration to telephony and collaboration (chat, file sharing), CTI, fax tools and much more. Within just a few steps, you will be in a position to export the old data and integrate it in the new pascom solution and configure your network accordingly.
Call Centers with hundreds or even thousands of Call Centre Agents should plan and allocate a realistic timeframe for this process plus ensuring an IT department is tasked with overseeing the change over. Once setup, system administration is minimal and any issues can be resolved in a manner that keep human resource requirements down to a minimum.
For small business, the process is a relatively straightforward. Choose the pascom Cloud PBX as the quickest, most flexible and cost effective system to setup and operate. Cloud solutions offer greater flexibility in terms of system scalability, everywhere access thanks to simple multi-location networking and of course operational costing reducing or even eliminating high up front costs. A pascom cloud solution is usually setup in a matter of minutes and within fully configured within a working day – give our consultants a call and find out more!
pascom as a Call and Contact Centre Solution
When setting up our pascom phone system within a call and contact centre environment, our recommendation would be to opt for either our pascom virtual or cloud solution. Our reasoning here is simple and twofold – hardware servers are inherently difficult to scale and both the virtual and cloud (Contact Centre as a Service or CCaaS) options offer greater redundancy and scalability. The pascom virtual solution can be installed on-site where the ISDN was previously connected. The existing hardware can be repurposed and connected via ATA adapters, which convert everything to VoIP. Furthermore, with a pascom solution you will benefit from platform independent installation of both the server - Microsoft Hyper-V, vmware, Xen, Proxmox, VirtualBox or KVM - and desktop applications (Windows, Mac and Linux).
Need to register several hundred or thousand connections? With pascom solutions this isabsolutely no problem. Via the desktop client, agents have access to a complete overview of all contacts and phone calls, plus the ability to switch between campaign teams and even outbound call CLIs (Trunks) plus much more.
These features make a pascom IP PBX the ideal virtual Call and Contact Centre solution:
Destop application with built-in team management and advanced call centre tools such as call labels and recording.
AutoAttendants, IVRs, Automatic Call Distribution and Skills Based Routing all included as standard ensure calls are answered quickly, efficiently and by the most suitably agent available.
Dynamic agent login / logout ensures you can ideally manage and balance agent workloads. If a team is particularly overburdened, other agents can log themselves in to alleviate workloads.
Enable the pause function to ensure inbound calls do not needlessly ring an agent's extension.
An easy to understand interface that ensures the intuitive ease of use even for new team members.
Different Requirements, One Solution – pascom
Our VoIP solutions are design to cater for the needs of any business, from the self-employed one-man band to the SOHOs, SMBs and Large Enterprises. To ensure we provide the most suitable solution we offer a number of options:
pascom On-premise Server
pascom server hardware solution offer a comprehensive solution for smaller businesses. With a number of pascom server options available, finding the right on-premise option for your business needs is simple. No matter your business size, our server options cover every business from a one-man band through to larger SMEs. pascom's onsite servers combine the benefits of modern IP telephony with the stability and control of an onsite hardware solution. Deploying a pascom onsite server hardware solution can be particularly advantageous for smaller Contact Centre and Service Centre operations and satellite or branch offices requiring onsite hardware due to a lack of virtual solutions.
pascom On-premise Virtual
Scalable from 0 to several hundred or even thousand users, a virtual pascom phone system is the ideal platform for any business looking to save on capital overhead and utilize any existing virtualization infrastructure. Adding teams, departments, separated expert areas and even inter-connected locations is quick and simple to do and with a virtualised pascom phone system will likely not involve additional hardware or modules be purchased.
pascom Cloud
Add business agility and flexibility with a pascom Cloud phone system. Regardless of whether you are a self-employed or run a small to medium sized business enterprise, profit from a simple setup, zero hassle multi-location connectivity whilst using your Internet connected device(s) of choice. pascom Cloud PBX solutions are hosted in the pascom.cloud, removing any self-hosting and VPN requirements, whilst ensuring anytime access from anywhere. Furthermore, with pascom Cloud telephony solutions, hosting is free of charge.
Give the pascom team a call on +49 991 29691 200 to discuss your requirements and get started within minutes using our free hosted business VoIP phone system edition.