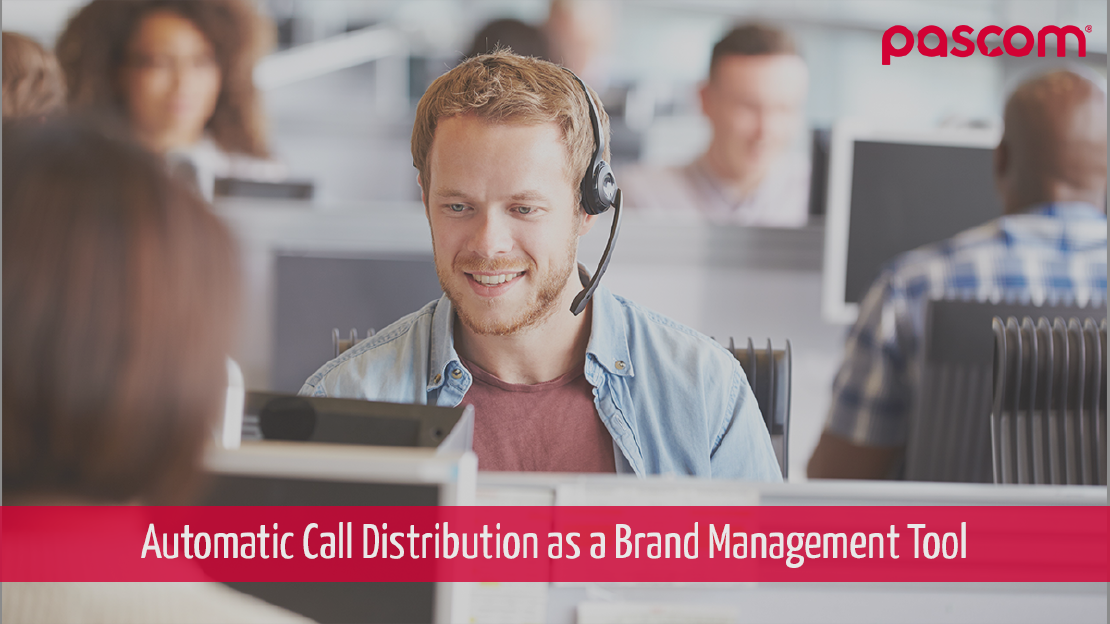 Automatic Call Distribution as a Brand Management Tooll
18.01.2016
6 min read

pascom
Automatic Call Distribution - How To Use Your Phone System For Brand Management
Welcome back to our SMB Phone Systems & Brand Management series. In part two of this series, we took a look at how businesses can create a more positive brand experience by using some basic call routing techniques, namely "Call Groups".
Traditionally, call groups were the only call routing options available to SMBs due to the cost related to expensive proprietary phone systems. However, nowadays things have a changed. The advent of the software based IP PBX and OpenStandards solutions has really thrown the playing field wide open by making automated call routing not only more accessible but also more cost effective.
In this post, we are going to go one step further and demonstrate how by using Call Queues, Teams, Automated Call Routing and Skills Based Routing, small businesses can not only project a professional image but also back it up with professional customer service as well.
Call Queues, Teams & ACD
A more advanced and professional option which is now available to any organisation but is perhaps better suited to larger organisations is to configure Call Queues for your departmental teams. In many ways Call Queues can be seen as being pretty similar to Call Groups as you effectively route the call to a group of employees.
However, there is a difference. Call queues incorporate Automated Call Distribution (ACD - more on Asterisk based ACD. By implementing a call queue, your agents will be required to login into the queue. In turn, the ACD solution will then use this information to direct calls only to those agents who are logged in and ready to take calls.

Each team has its own direct extension meaning any callers wishing to speak to a team, e.g. sales, can call the team queue directly. Meanwhile, those callers who do not know the direct extension will still be able to reach it through your Auto Attendant or IVR. Using this method provides SMBs with the ability to play "music on hold", customised announcements and waiting times while the caller is being held in the queue, making the whole experience much more comfortable whilst reducing the chances that an inbound caller receives a busy tone.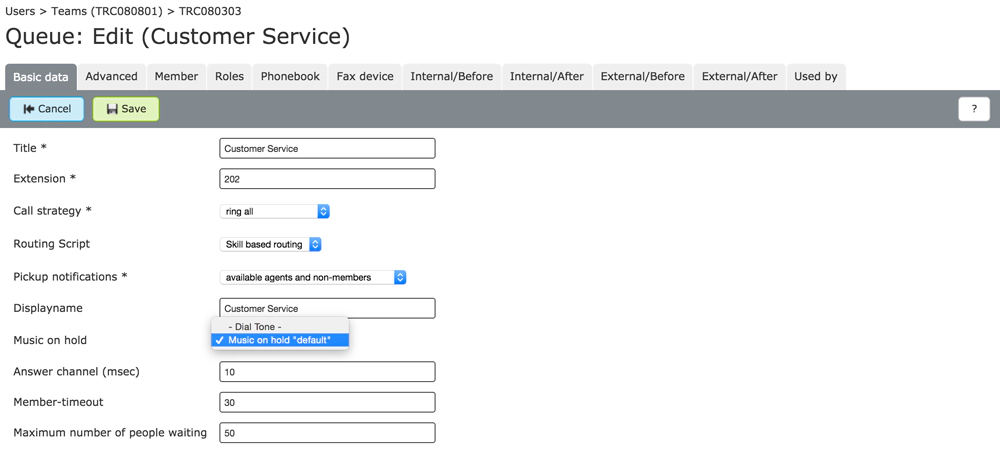 Another useful feature of ACD call routing engines, is that some (not all) are able to distribute calls using so called affinity routing which describes the process in which an incoming caller is identified and routed to a single specific agent. Possibilities here include the agent the caller last spoke to or their account manager etc. This has numerous benefits in terms of delivering more personalised service and creating a stronger more positive impression on the customer and will be the topic of a future post - so stay tuned!
Quite often simply using Call Queues and ACD may well be the most suitable course of action. However, there is a downside here in that if you run any form of small business contact center. Chances are, you will require quite a few teams and a queue for each of them which will quickly become a challenge to manage and that is where skills based routing comes into play.
Skills Based Routing
With skill based routing, any business that has any form of inbound contact center operation can route calls directly to the agents to meet a specific customer need as determined during the Auto Attendant stages before the call enters the queue. In order to work correctly, all your employees who receive calls must have a skill assigned to them and certain skill criteria must be set.
For example, you can assign employees with a skill set, quantify their ability for individual skills and then configuring the routing engine to route calls to agents with the highest skill set first, you can ensure that your callers speak to a suitable employee each time.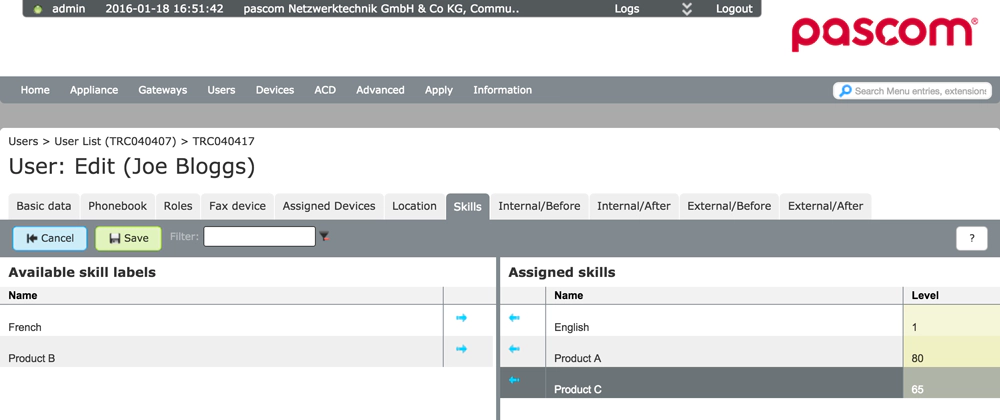 The main benefit here is clearly in improving customer service and increasing customer satisfaction. However, there is also an operational benefit as well. As mentioned above, having numerous teams and queues can become a challenge to manage, especially if you use any sort of call reporting solution (and you should - coming in part 4). By utilising a skill based routing solution, businesses can reduce the number of queues down to 2 or 3 and in some cases just one, making the system much more manageable as well as more customer orientated.
Call Labels
As you have now whittled your queues down and set up your skills, you will have agents who have multiple skills assigned to them. This begs the question of how do your agents then know which skills are required? The answer lies in using Call Labels. When a call comes in and goes through your Auto Attendant system, for every option they select a label can be attached to the call. This label can then be displayed on your agents desktop application screen along with additional information from your CRM / ERP systems - see part one for more information.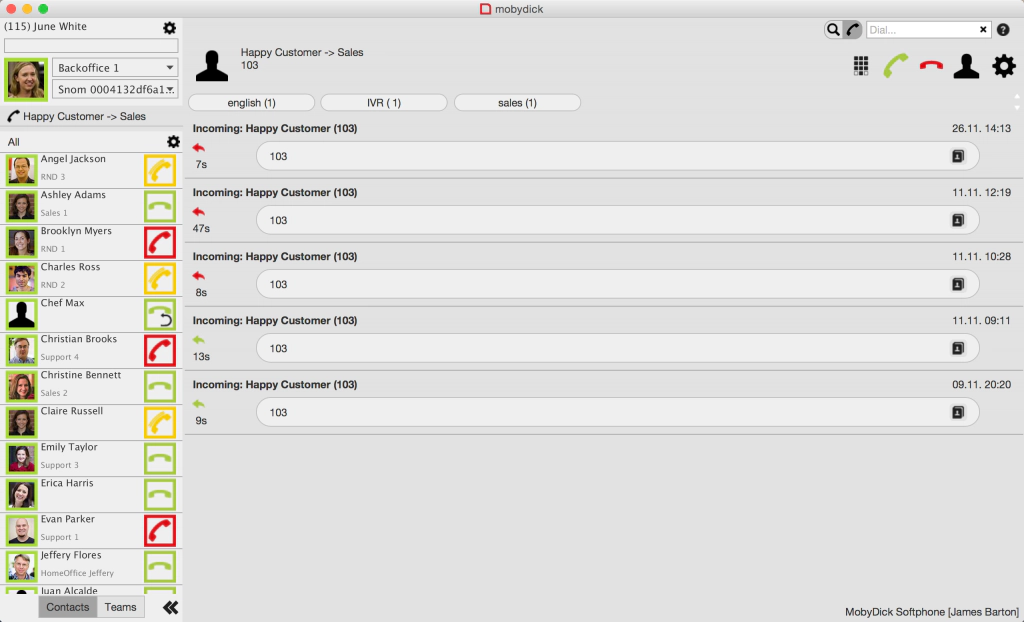 In doing so, your employees can have access to all the information that they need to know about a caller before answering the call. Armed with this knowledge, the employee that answers the call will not only be the most suitable, but will also be able to deliver more specific customer orientated service and therefore contribute towards creating a more positive brand reputation.
So why are so many small businesses not taking advantage of these phone system features? The truth is that until recently, these options were only available from proprietary vendors and required their expensive hardware solutions. However, thanks to OpenStandards software based solutions such as pascom, all these routing options (and more) are now extremely cost effective and more scalable for businesses of all sizes.
Next time we will be back with more on generating a positive brand image using your business phone system by taking a look at how implementing an effective mobility solution can also help in generating a positive brand image.
For more information on how the pascom phone system can support you in growing your business give us a call +49 (0) 991 29691 201 or check out our website.
Alternatively, why not try our Free Edition and find out for yourself. It really is that simple.