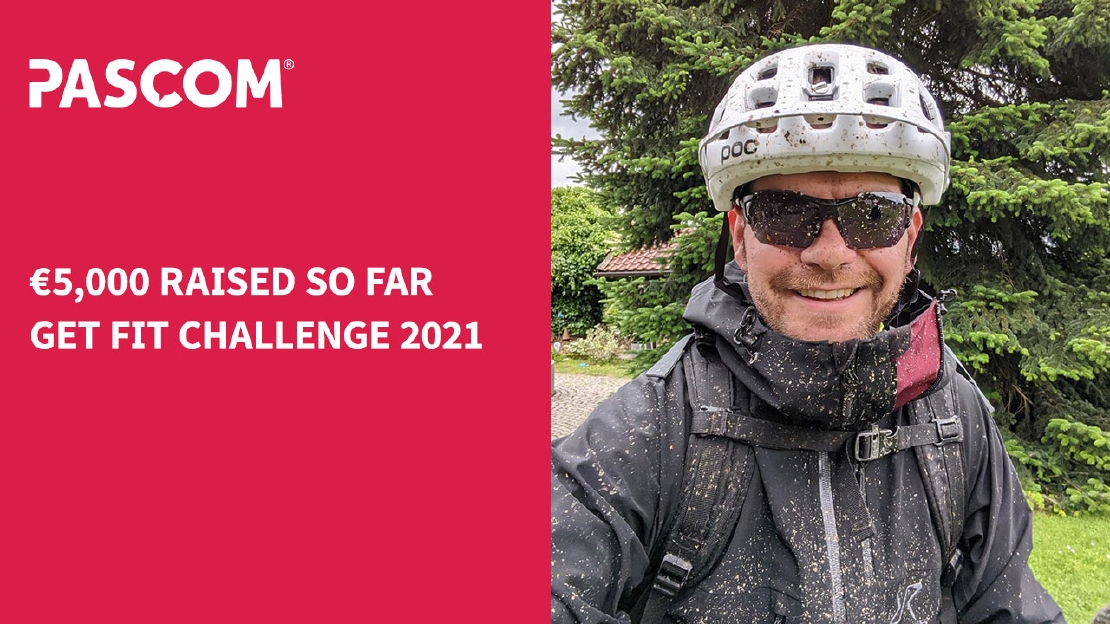 pascom Get Fit Challenge 2021 - €5,000 Raised!
30.08.2021
6 min read

pascom
What's Happening in the pascom Get Fit Challenge?
Summer has arrived and gone again, at least for now, but the rainy weather hasn't stopped Team pascom in their efforts to get fit and raise money for worthy local causes in the process. Since our last update in March when we had already smashed our goal of 20,000 points and €2,000 for charity inside of three months, the team have been out there running, cycling and logging all their efforts. The result of all this hard work, team pascom has cruised past the 50,000 points milestone and therefore now raised an incredible €5,000 and there's still September and October to go!
Get Fit Challenge News
Before we start praising individual achievements, let me update you on some of the latest team activities and give a shout out to the bosses who have been working feverishly behind the scenes to motivate, engage and support employees in their efforts. Alongside actively encouraging and motivating staff, the pascom CEOs have been busy finding new and innovative ways to bring the team together as we continue our hybrid working strategy and allow team members to work remotely.
An excellent example of this can be seen in our participation in the Heimat Trails Trophy. Not only is pascom funding the entrance fee, the CEOs have also actively promoted and encouraged participation, scheduled event days, organised teams and transportation. In the process, the pascom C-suite has ensured that all individuals who want to participate can do so by planning all event days to take place during the working day, on the company time and dime.
The Heimat Trails Tropy
So what is the Heimat Trails Trophy? Well, it's a 4 part sport event that sees competitors compete across in one of four discipline (running, mountain biking, e-biking and hiking) across 4 well-known routes within the Lower Bavarian region of the Bayerischer Wald. What makes the trophy unique is that it is a "virtual" sport event designed to get family, friends and small teams of colleagues out in the fresh air of the local countryside. In the age of COVID-19 safe events, there is no big day with hundreds of competitors lining up on the start line. Instead, competitors must track their progress on their smartphone or watch, take a selfy at the finish line and then submit their times and pictures within the allocated time-frame within which each of the four courses have to be completed.
Stand Out Performers
So on to the stand out performers. With a lead of over 3,000 points over her closest competitor, pascom Accounts and Logistics Lead, Beate Weber is leading the pack and it will take a monumental effort to catch her. From January to today, Beate has hiked an astonishing 1,244.1 km over 414 hours and 28 minutes with a total ascent of just shy of 41,000 meters and on top of that she does Pilates and Yoga as well - all I can say here is wow and respect!
The 4,000 Club
Having been put firmly in our place by Beate's achievements, it is now time to look at the best of the rest. Occupying second place and leading the 4,000 club is pascom CEO Mathias Pasquay who has amassed 4721 points whilst galavanting around Bavaria on his bike. Spots 3, 4 and 5 are currently occupied by Tanja Richter (Logistics), Jan Lorenz (Development) and Christina Dörr (Support), but with only 100 points separating them, these spots are up for grabs. The newest member of the 4,000 club is pascom newbie Sebastian Damm, who is well and truly on the charge. Having only joined us in February and not being able to participate much during his relocation to sunny Bavaria, Sebastian is now leaping up the table and leaving the rest of the pack in his dust!
Top Individual Performances
As far as stand out activities go, team pascom in Serbia are still dominating the rankings with their Skiing escapdes from earlier in this year. That said, when it has not been raining too much, the summer months have provided enough opportunity to get outside and enjoy the forest and mountain air.
One particular activity that caught my eye was pascom Head of Support Sebastian Cornely's struggling to push a pram through the rugged terrain of Bad Goisern am Hallstättersee in the Austrian Alps - I am sure that there are plenty paths were this is possible, but the one he found himself on was definitely not one of them.
The good news is that they made it and Seb has learnt his lesson and on the next trip, the scenary was much more welcoming and the going much more forgiving:
Further mountain accomplishments include the boss taking on and conquering the "Münchner Hausberg" - The Rotwand. With it's Via Ferrata, hiking trails and the countless waterfalls, the Rotwand is a bavarian favourite which offers routes for all nature enthusiasts, but standing at 1,884 meters, you have to be fit to get to the summit.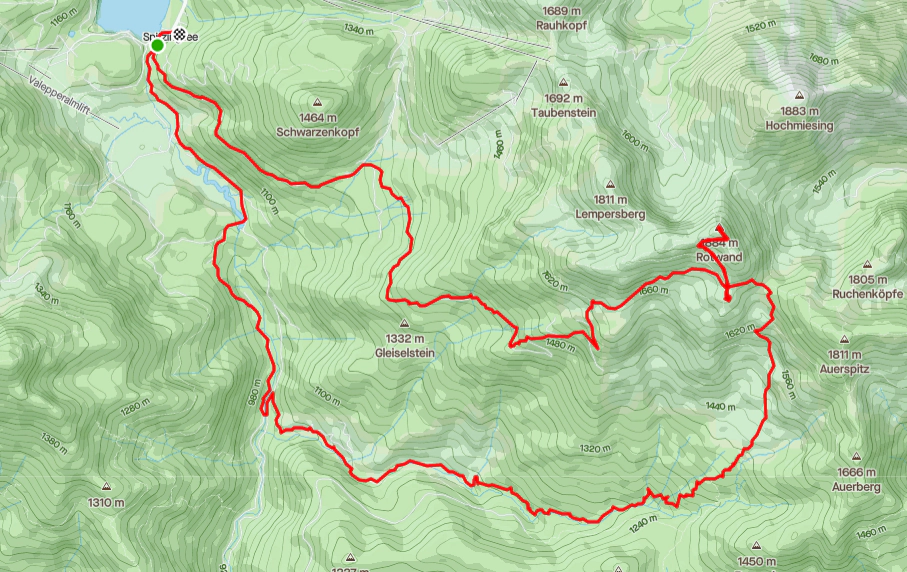 Aside from trekking through the mountains, there has also been a fair amount of watersports going on including ocean and lake SUPing, kayaking, pedalo boat trips with the kids and even yours truly braved the cold temperatures for a spot of freshwater swimming.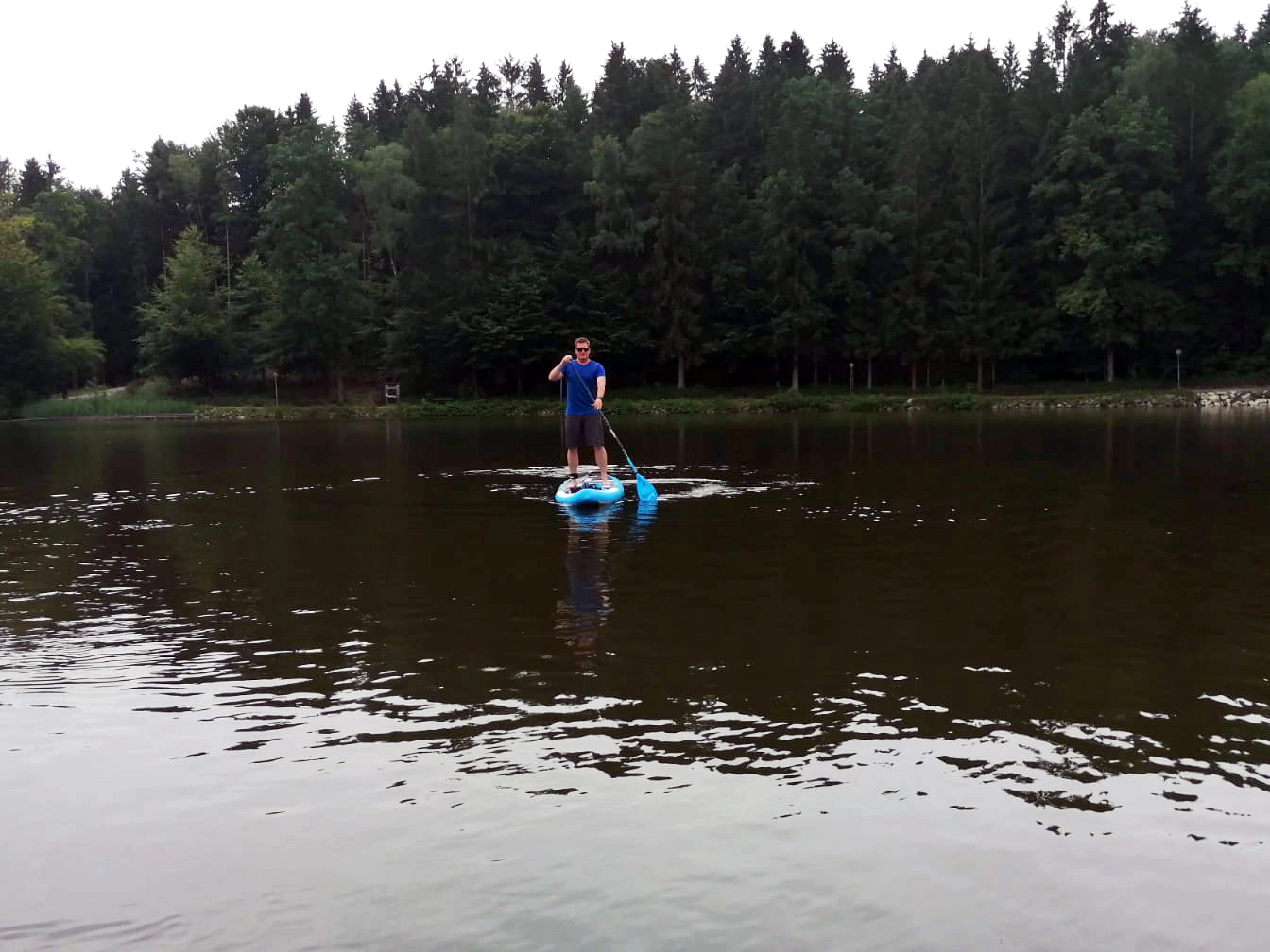 About pascom
Founded in 1997, pascom are the developers of next-generation UCC Telephony Solutions and we upgrade business communications.
With pascom as the heart of their communications, businesses have a centralised, intelligent hub giving them total control over their organisation's communications – no matter how diverse the workforce or dynamic the business communication channels.
The pascom platform offers excellent scalability and is highly customisable to exactly match even the most specific customer requirements. This is why pascom phone systems are the perfect choice to support Small Medium Enterprises to communicate smarter, more efficiently and more cost-effectively.
Visit www.pascom.net to learn more about pascom and how our solutions support businesses to upgrade their business communications.