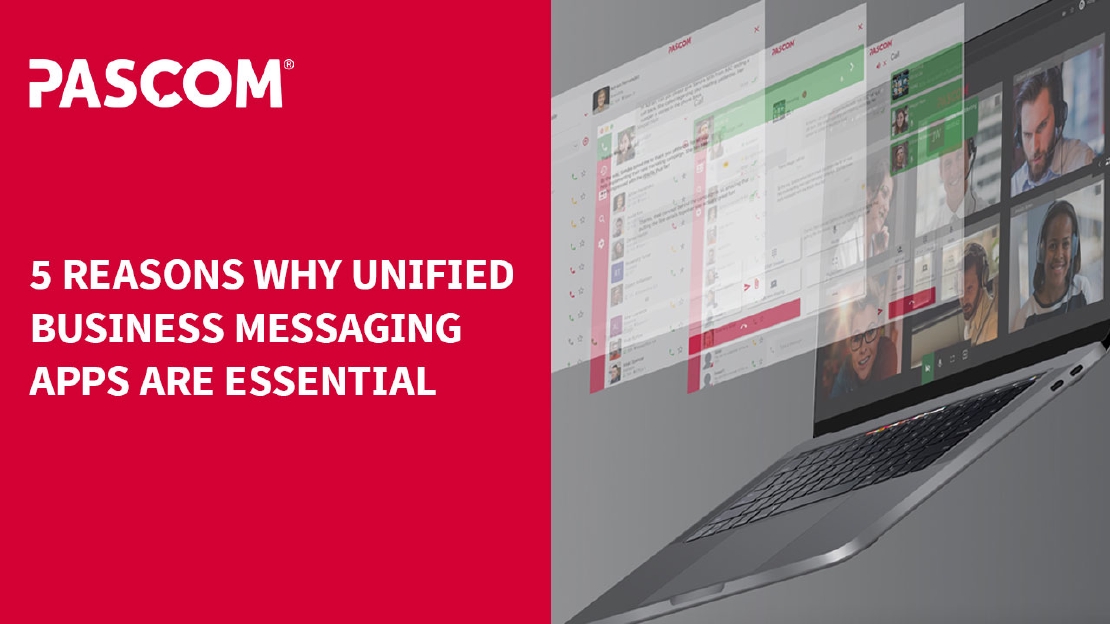 5 Reasons Why Business Messaging Apps Are Essential
Messaging apps are great; they offer a quick, convenient and easy way to communicate. Therefore, it is hardly surprising that so many people rely on text messaging apps for their everyday communication. As for business communications, messaging apps can be an effective productivity enhancer, so it is no wonder that customers, employees and business leaders all want to adopt messaging apps as they look to upgrade how they communicate.
The problem is, personal messaging apps are just not suitable for the business world. To gain real benefit and add value, companies need to focus on effective collaboration. That means unified business messaging apps. And here is why.
1. More Than Chat - Everything and Everyone In One Place
As Adam Richardson writes in the Harvard Business Review, the problems facing businesses today are more complex than ever and solving them requires a diverse range of skills, perspectives and approaches.
In other words, businesses need multiple people to work together effectively to achieve common goals, an effort that requires an effective collaboration solution. Personal messaging apps are great for connecting friends but are inefficient at keeping groups of people on the same page as everybody has their own preferred app. In reality, not everyone will use the same app or have access to all the same tools, an issue that obviously makes it nearly impossible to connect, communicate and collaborate effectively and will eventually lead to app overload.
What is best for businesses is a single, approved platform where colleagues can effortlessly connect with one another. Team collaboration and unified business messaging apps are designed to do just that. You log on using your work credentials, your whole team is instantly available to you, and everyone has access to all the necessary tools required to get the job done, from chat to team messaging to calls and video meetings.
2. Shadow IT, Security & Data Protection
Mixing business with pleasure will get you into trouble, which is where your business will be headed if you leave employees to their own devices and apps. In the IT world, the use of unapproved tech is known as Shadow IT and has far-reaching data security, data protection and productivity consequences.
Protecting company data is essential and not only because data protection laws require you to. Your company data is also what gives you your competitive edge. When personal instant text messaging apps are used for work purposes, not only do businesses lose control over their data, employees will invariably choose app convenience over app security.
What's more, the confusion that results from mixing personal and business messaging, employees will lose their overview and unwittingly make mistakes such as sending confidential information to the wrong recipient. All of these issues expose company data and pose security risks.
A central business messaging platform that all employees can use will help ensure businesses retain control over company data. However, it's worth noting that not all business messaging apps are equal. So it's worth researching what security protocols are in place, where the data is stored and which features are included.
By choosing the right dedicated business messaging app, businesses can enhance security while employees can keep their work and private messaging separate, which has the added benefit of driving productivity (more on that below).
3. Business Messaging & Collaboration Apps Enhance Productivity
Information silos, where the flow of information from one system to another cannot be adequately shared, are bad for productivity. Without easy access to information, employees cannot perform their tasks to the best of their abilities. Unfortunately, no matter how hard anyone tries, they will always exist. Business leaders and managers must focus on minimising the risk posed by existing silos and preventing new ones from developing.
Unlike consumer-grade text messaging apps, business messaging apps unify all the channels into one application. This ensures that no matter how information is distributed, it is readily available to all users as and when they need it. This is essential as it empowers project teams to work more effectively, which will enable them to complete projects quicker and to higher standards.
When we apply this theory to the real world, the move to remote and hybrid working has created a highly dispersed workforce. Keeping dispersed teams productive has clearly demonstrated the importance of business messaging apps. As we look post-pandemic, their significance will only continue to grow as employees demand more flexibility and hybrid working becomes standard for knowledge workers.
4. Flexibility Is Key To Effective Collaboration
A 2012 Salesforce survey found that a massive 86% of employees blamed a lack of collaboration or ineffective communication for workplace failures. While this survey is relatively old, it is not outdated. The underlying issues have not changed, as evidenced by the core takeaway from this 2021 survey being that of the 856 respondents, 80% of workers want to choose how they collaborate, i.e. via chat, video, audio conferences etc.
Further insights show that 76% of knowledge workers feel that effective collaboration positively affects company culture, with 50% believing chat and channel-based tools, such as pascom Groups, lead to less rigid culture, and 48% feel that such tools result in more effective project management.
This information is crucial as it shows that driving productivity can only be done with effective workplace collaboration. This requires the right tools, making them accessible to everyone and available on their preferred devices - something that is simply not possible with consumer apps.
5. Effective Communication Affects The Bottom Line
When we talk about productivity, we think about output. What we often don't think about is efficiency, cost and quality. For example, a business can produce all the products it wants. If those products are of low quality, are manufactured using inefficient processes that then transfer into high costs, that business will fail.
If things change and efficiencies improve, costs will go down, the manufacturing process will improve, which will give the company a chance of success. But this doesn't happen on its own. Positive change requires people to work well together, which requires trust. This can only be achieved with effective communication throughout the organisation, from top to bottom.
Great things in business are never done by one person; they're done by a team of people."
Steve Jobs
By creating, encouraging and optimising effective communication channels, business leaders can affect change and grow trust within the workforce. Given the right tools and work atmosphere, employee satisfaction will increase, which will promote creativity and more innovative problem-solving. In short, Input affects output and when the input is good, this will have a positive impact on a company's bottom line.
Discover pascom
If you have any questions about pascom's Team Messaging and Collaboration apps and the pascom phone system and how they can help your business prepare for tomorrow's workplace, then we're here to help. Just give us a call on +49 991 291691 200 and speak to one of our experts. Alternatively, get started today with our free cloud phone system trial.