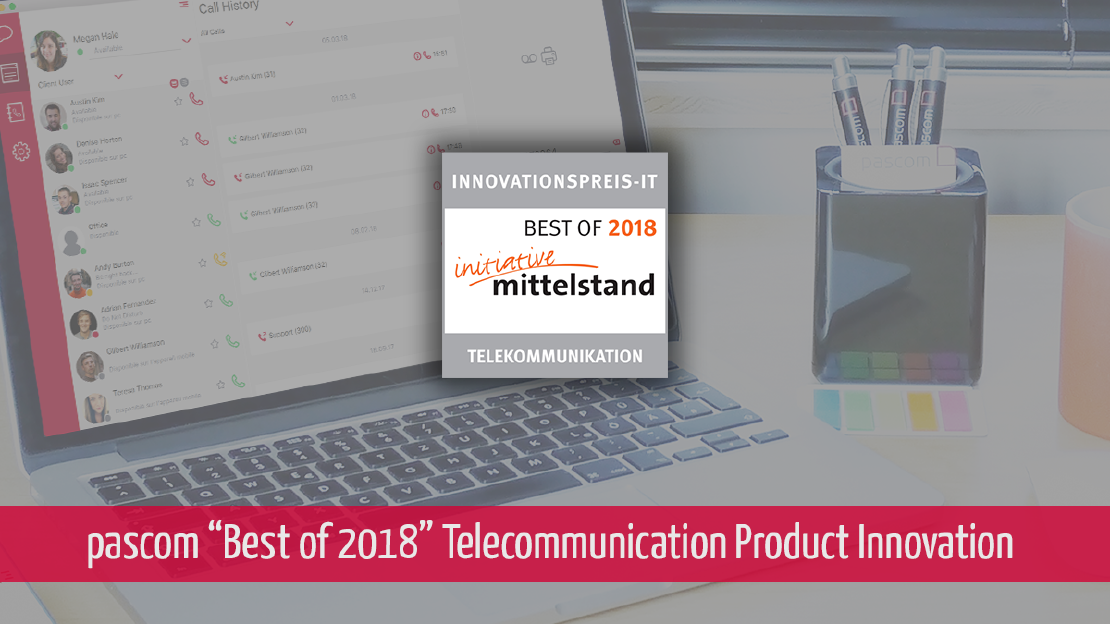 Telecommunications Innovation Award 2018
10.04.2018
2 min read

pascom
pascom Awarded "Best of 2018 Innovation Award IT 2018" for Telecommunication
(Deggendorf, Germany | 10. April 2018) pascom GmbH & Co. KG, developer of the next generation UC business phone systems are honoured to named "Best of 2018 for Product Innovation" in the category of Telecommunication as judged by the INNOVATIONPREIS-IT jury of industry experts.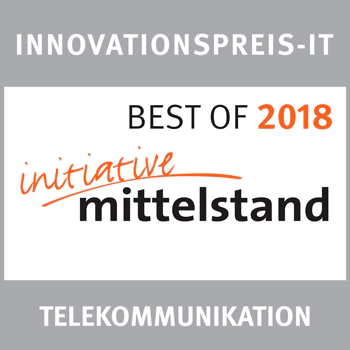 pascom phone systems were highlighted by the panel of experts for their excellence in fulfilling the demands of medium sized organisations in terms of innovation, functionality and user-experience as well as the ease with which pascom solutions support businesses in their "Digital Transformation" efforts.
In assessing solutions, the INNOVATIONSPREIS-IT jury places great emphasis on solutions that deliver significantly more value and benefits to small to medium sized enterprises. The Best of 2018 for Product Innovation signifies that pascom's ongoing focus on enhancing User Experience with enhanced Unified Communication applications for Windows, Mac, Linux, Android and iOS are now being regarded as among the most innovative within the industry.
Mathias Pasquay, pascom CEO:
Being nominated as Best of 2018 for Telecommunications Product Innovation is a great honour and achievement which recognises pascom as leaders of innovation within the Telecommunication and Collaboration industry. Being named as Best of 2018 for Product Innovation also reflects our ongoing commitment to continually innovate our telecom solutions and enhancing both the end user experience with intuitive UC apps and tools as well as the in-call customer experience with intelligent call distribution and promoting a caller friendly environment.
About pascom
Founded in 1997, pascom are the developers of next-generation Telephony Solutions and we upgrade business communications.
With pascom's on-premise and cloud based UC phone systems at the heart of your Communications, you will have a centralised, intelligent hub with which you can gain total control over your organisation's communications – no matter how diverse and dynamic your business communication channels.
Our solutions offer excellent scalability and are highly customisable to exactly match even the most specific customer requirements making our IP PBX solutions the perfect choice to support Small Medium Enterprises communicate smarter, more cost effectively.
About INNOVATIONSPREIS-IT
The Innovationspreis-IT Awards 2018 are organised by the Initiative Mittelstand who provide online product and services information portal aimed at informing SMEs regarding the newest, most innovative solutions available on the market across a number of ICT fields.