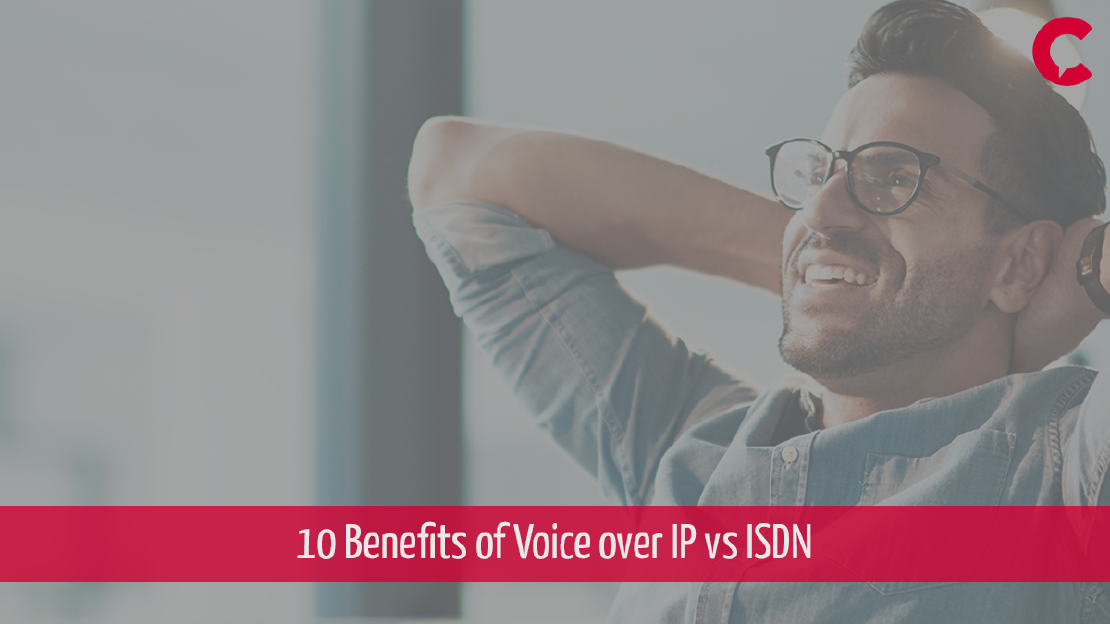 10 Benefits of Voice over IP vs the ISDN
10 Benefits of Voice over IP
With the ISDN switch off already underway, it is inevitable that at some point in the short to mid term future; every business will have to address the topic of Voice over IP. Many have already made the leap to VoIP and are reaping the rewards of being at the forefront of business communications. Others are just now making the switch, some being forced by their provider – Deutsch Telekom are pushing the switch to All-IP by the end of 2018, as are Swisscom and BT in the U.K. are planning the ISDN switch off for 2025.
Either way, switching to a VoIP phone system and All IP technologies provides business with a number of advantages compared to legacy ISDN / analog connections and in the following article we have outlined just 10 of them:
1. Worldwide Availability with Voice over IP
Download and install the VoIP application on your laptop and / or smartphone and log in using your personal user account or in the case of smartphones pair your mobile VoIP app and that's it, you are not reachable from anywhere via your VoIP phone system. The objective is to make telephone communication as location independent and convenient as checking your e-mails. This has obvious benefits for team members who often work from HomeOffice or from multiple offices.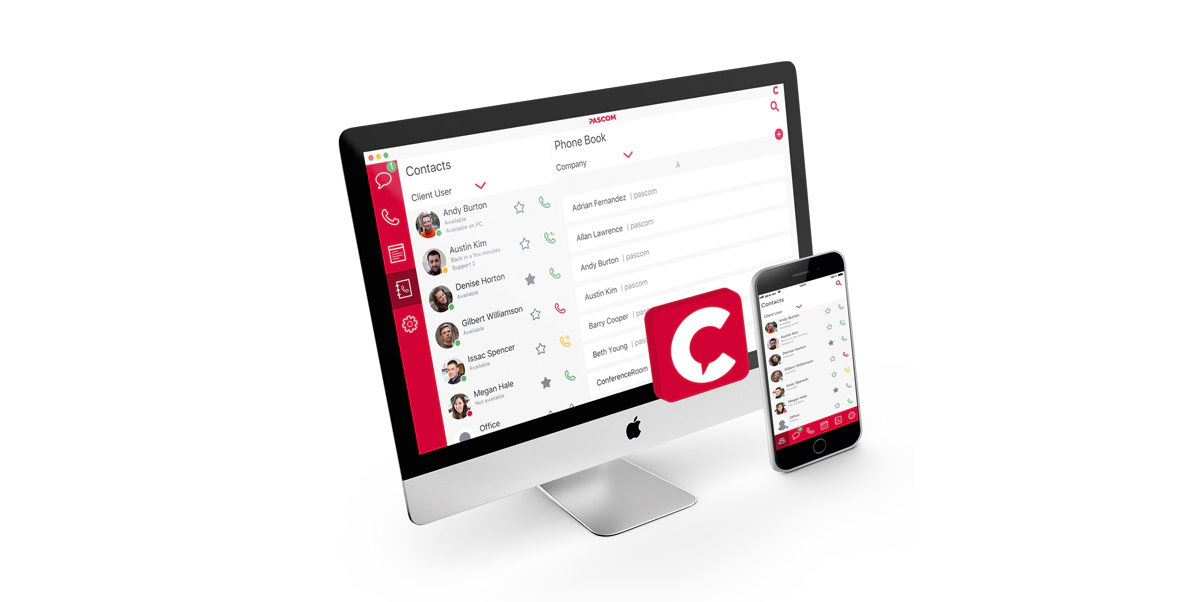 Thanks to Voice over IP solutions, it is possible to take your individual office number with you without needing to configure a new phone everytime. Simply use the"Hotdesking" feature and log on to an available desktop IP phone using your personal details or into your desktop application and either select the appropriate "desk" from a list of available work locations or use the in-built softphone.
2. Improved Audio Quality
Advancements in audio codecs such as High Definition (HD) audio and the OPUS codec ensure that not only do VoIP phone systems deliver a consistently higher standard of in-call audio quality but also throughout the complete call from beginning to end. As such, callers will benefit from a considerably more enjoyable in-call experience, particularly when the audio enhancements are supported by intelligent call flow management tools such as customized prompts, music on hold, flexible teams and intuitive call distribution.
3. Scalable to Any Business Size
Voice over IP solutions (VoIP for short) routes calls over an IP network such as the Internet as opposed to over traditional fixed landlines. In doing so the, the call is sent over the Internet in the form of encrypted packets. Business VoIP solutions can be based on a number of different frameworks. pascom business phone systems, for example, are based on Asterisk, the world's leading OpenSource VoIP software. Using Asterisk as the core of our software-based phone systems enables us to offer highly scalable and customizable business communications solutions built on OpenStandards and therefore deployable in most common IT Landscapes.
Phone system hardware server: our pascom phone systems are available as a server hardware solution, i.e. a hardware appliance which is delivered pre-installed and pre-configured to your business needs. As such, you need only to unpack and connect your new phone system server and you're ready to go.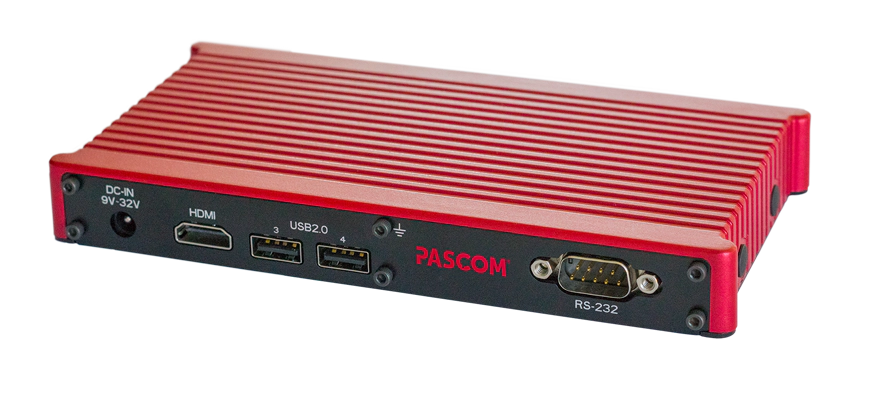 Virtual phone systems: should you have a virtual infrastructure available to you, a virtualized phone system could be the ideal PBX deployment option for your business. With a pascom virtual IP PBX, you can be up and running in a matter of minutes. Simply download the ISO file, install within your existing infrastructure and setup up your system and that's it, your basic telephony needs will be covered.
Cloud phone systems: an excellent choice for startups, SMBs as well as any company looking to centralized their business communications, pascom's cloud phone system offers the ultimate in scalability, flexibility and ease of setup. Additional significant benefits also include pascom's free of charge hosting and the option of managed services, meaning that after setting up your login credentials, you can immediately get started and should you require support, the pascom team are always on call to lend a hand.
4. Productivity Increases
Voice over IP business phone systems don't just offer superior, yet cheaper calls and call management, but also enable IP based data transmissions. As a result, modern business phone systems include a range of productivity enhancing collaboration tools such as softphones, instant messaging, file sharing, presence management, audio conferencing, contact and call center functions and much more.
In the case of instant messaging, automated delivered and read "reports" provide users with real-time feedback as to whether the recipient has read the message or not. Location tags and presence management supports users in making contact decisions quicker and more intelligently. In essence, thanks to Unified Communications and Collaboration, virtual collaboration now knows no boundaries no matter the geographical separation between an employee and their colleagues, customers and business partners.
5. Centralised, Streamlined Solution Management with VoIP
Regardless of which Voice over IP business phone system deployment option you choose, software based VoIP systems support businesses simplify solution management. For example, hardware deployments, adding users and importing contact information can all be managed centrally and often automatically, greatly reducing IT administrative hassle and resource utilisation.
In the case of hardware phones, they are no longer must haves thanks to the advent of softphones and mobile VoIP. Should you choose to deploy hardware IP phones, most modern devices support PoE (Power over Ethernet), meaning no additional power cabling is required and whilst also reducing energy consumption. Furthermore, top of the range solutions will also include a virtual faxing solution, enabling businesses to optimize and reduce the number of analog deployed fax devices.
6. Cost Savings with pascom VoIP Solutions
First up, with VoIP solutions, you can generally eliminate all internal telecom costs as all internal calls are routed internally and are therefore not billed by your provider. Moreover, mobile softphones and UC apps ensure that even mobile communication costs are significantly reduced, even when calling from abroad as mobile data or wireless networks are used, thus greatly reducing international call costs.
OpenStandards phone system solutions such as pascom's also offer customers more freedom when it comes to selecting the voice carrier (or carriers) that best suit your business requirements. A great example of this could be by integrating international carriers to one; provide your customers with a local number to call and two, reduce your international calling costs. Compared to ISDN connections, it is possible for internationally active companies to realize over 50% cost savings for international calls.
7. Maintenance and Security
While it is true that the security of VoIP telephony solutions is often called into question, correctly implemented modern solutions are in fact often more secure. Leading vendors such as pascom, recognize the importance of VoIP software security and this is therefore reflected in the fact that security is a core element of their solution. As a result, when using a pascom solution, you can rest assured that not only are your calls encrypted and secure, so are your pascom UC client instant messages and file transfers.
A further benefit of VoIP software solutions over legacy ISDN solutions is the regularity and availability of updates. Not only are updates more regular, they are normally included at little or no extra cost. What's more, as we are talking about a software update, updates are more often than not quickly, simply and easily implemented without requiring additional hardware components or modules or much administrative hassle.
Quick and uncomplicated remote maintenance via the Internet is not only secure, thanks to pascom's incorporated Session Border Controller, but also ensures that companies are more mobile and flexible in terms of Business Continuity. If necessary, phone system admins can access the solution from anywhere and at anytime for maintenance and service issues. Through using the phone system's in built system health check notifications, admins are able to proactively react to issues as they arise, meaning lower downtime and more continuous service. Of course, it you wish to add additional security, access can also be restricted to the company network via VPN.
8. One Number Concept
A further benefit of VoIP solutions is the One Number Concept, the benefits of which can be applied to users as well as the company as a whole. National companies, for example, now only need one number and calls can be routed across all company locations nationwide, no matter where the solution is hosted. Obviously, this is option is more suited to the smaller startup or SOHO organisation. However, the concept itsef delivers benefits for all business sizes. For example, should you have a number of Direct Inward Dials (DIDs) mapped to internal employee and team extensions, the one number concept and Find Me Follow Me tools ensure that no matter where you and your team work from, they will be directly reachable on their specific office number.
In terms of international business relationships, the one number concept also delivers significant advantages as your team will enjoy worldwide availability on their office number, no matter where their location. Therefore, even if your business employs a number of carriers to deliver local numbers, customers, business partners and employees will need only one local number on which to contact any member of your team globally.
9. More Efficient Customer Service with VoIP Call and Contact Centres
Compared to legacy ISDN phone systems (and even a number of IP phone system vendors), pascom's business phone system includes a range of call and contact centre functionality as standard with which businesses are able to realize significant customer service efficiency and satisfaction gains. With AutoAttendants, Interactive Voice Response (IVR) option menus, Music on Hold and Prompts, Automatic Call Distribution (ACD) and even Skills based routing included as standard, your business will have all the contact centre tools needed to professionally and efficiently manage all your calls.
For example, with our VoIP solution, team management has never been simpler. Even extension management is greatly simplified, e.g. when adding a new Team (a.k.a Queue), the phone system will automatically suggest the next available extension or alternatively, you can manually assign an extension to the team and be assured that you will not suffer any call flow loops thanks to the solutions automatic extension assignment checking tool.
Assign teams according to roles, i.e. sales, and the once setup, calls to the team will then be routed to all assigned team members according to your preferred call routing strategy. Alternatively, thanks to skills based routing it is possible to assign individual members with specific skills such as product knowledge or languages and ensure your calls are answered not only quicker, but also by the most appropriately skilled employee at the first time of asking.
Further boost customer service with Contact Centre tools such as call recording, call analytics and 3rd party application integration. Call recording can be used for quality assurance and training purposes while call analytics can be used to graphically display live call volumes. Historical call analytics can be used to identify trends in call volumes even down to the level of specific skills, which can then be applied to ensure appropriate staffing levels. Finally, integrating 3rd party applications such as CRM and ERP systems can be used to provide team members with access to other sources of business intelligence if the form of call labels displayed within the pascom UC client before answering, during and after calls.
In essence, the combination of easy to manage call routing and management tools will support you in ensuring your callers benefit from not only shorter wait times, but also more enjoyable in call experiences.
10. VoIP Solution Setup
Follow these 7 steps in order to switch to and setup your business VoIP phone:
Choose from either a pascom Cloud or On-premise solution.

Import your users from your Active Directory / LDAP. Alternatively, download, complete and upload our Advanced User Excel Import file. You can also add phone assignments at this stage to automate elements of step 3.

In the case of on-premise solutions, your pascom phone system can automatically detect, add and configure supported IP endpoints and can now be assigned to individual users. For cloud solutions, end points will either be delivered pre-configured or will be on-boarded during the initial system setup support session.

Download and install the appropriate pascom desktop UC clients (Windows, Mac and Linux) and the pascom mobile apps for Android and iOS.

Plan and map your extensions / call flow concept. For testing purposes, add a switchboard extension, which can be setup to play a prompt or forward the call to a voicemail box. To test external calls you will need to add a SIP provider account.

Test the solution all functions such as softphones, instant messaging, ACD and so on.

Once satisfied, you can now register the solution with your VoIP carrier of choice and / or port old phone numbers to your new provider. In this step, you can also implement your call flow concept to correctly route calls to teams and users according to your plan from step 5.
Final Word
A well-configured business phone system that oozes useful tools, delivers excellent audio quality and intuitive call flows will leave callers with a highly professional impression. The configuration options and application availability and how well they are utilized will have a decisive impact on how professionally you manage your calls and therefore how your customers view your company. The switch to a pascom VoIP solution provides the opportunity to not only upgrade your internal collaboration but also to redefine telephony in your company.
Give the pascom team a call on +49 991 29691 200 to discuss your requirements and get started within minutes using our free hosted business VoIP phone system edition.